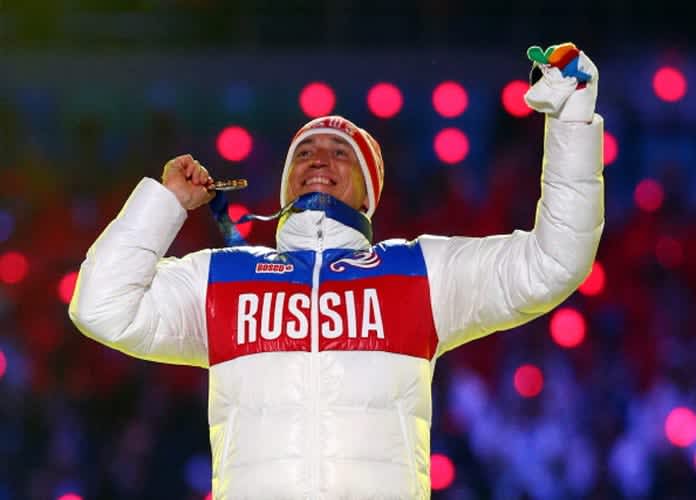 Two Russian Olympic curlers will lose the medals they won in Pyeongchang last week after one of them failed a doping test.
Russian Curlers doping scandal news
The Russian Curling Federation announced Wednesday that Alexander Krushelnitsky and his wife Anastasia Bryzgalova will return their bronze medals — which they won in the team event on Feb. 14 — after Krushelnitsky tested positive for the banned heart medication meldonium.
"Aleksandr Krushelnitckii (OAR, mixed doubles curling, ranked 3rd), positive test with meldonium; the athlete has admitted the anti-doping rule violation; he is disqualified from the mixed doubles curling event at the Olympic Winter Games Pyeongchang 2018 and the results obtained by the team OAR at the same event are disqualified with all resulting consequences," read a statement from the Court of Arbitration for Sport (CAS), which ruled the Russian curler is disqualified.
Krushelnitsky appealed his doping ban, but then dropped it shortly after a meeting between an aide to Russian president Vladimir Putin and the head of the International Olympic Committee, Thomas Bach.
The IOC's executive board is deciding whether to lift its suspension on the Russian Olympic Committee before the closing ceremonies on Sunday. The ban lifting would allow Russian athletes to parade in their own colors, a privilege they were denied when the Games began. Russia was discovered to have been running a state-sponsored doping program that dates back to the 2014 Olympics in Sochi.
"It would be stupid to deny it after two tests proved positive," Bach said of Krushelnitsky before the CAS's ruling. "The samples tested had been collected during the Olympic Games, and I am ready to face the verdict that is usually announced in such cases."
Krushelnitsky has denied knowingly taking meldonium, a heart medicine that increases blood flow.
One Russian sports agent, Andrei Mitkov, highlighted the importance of the aforementioned meeting in a recent Facebook post in which he described previous cases of athletes from his country failing doping tests. Mitkov has represented many athletes, including Russian Olympic swimmer Yulia Efimova, who was caught doping but was still controversially allowed to participate in the Rio 2016 Games. Efimova served a 16-month ban that ended in early 2015.
Here is the full statement from the CAS:
"Aleksandr Krushelnitckii (OAR, mixed doubles curling, ranked 3rd), positive test with meldonium; the athlete has admitted the anti-doping rule violation; he is disqualified from the mixed doubles curling event at the Olympic Winter Games Pyeongchang 2018 and the results obtained by the team OAR at the same event are disqualified with all resulting consequences; the athlete is excluded from the Olympic Winter Games Pyeongchang 2018; his accreditation shall be withdrawn; the proceedings shall continue between the WCF and the athlete; the IOC is no longer a party to this procedure. The athlete has accepted a provisional suspension beyond the period of the Games and reserved his rights to seek the elimination or reduction of any period of ineligibility based on "no fault or negligence" following the conclusion of the Games. The amendment of the official ranking of the mixed doubles curling event and the reallocation of the bronze medal is of the responsibility of the WCF and the IOC."
SOCHI, RUSSIA – FEBRUARY 23: Gold medalist Alexander Legkov of Russia celebrates in the medal ceremony for the Men's 50 km Mass Start Free during the 2014 Sochi Winter Olympics Closing Ceremony at Fisht Olympic Stadium on February 23, 2014 in Sochi, Russia. (Photo by Ryan Pierse/Getty Images)