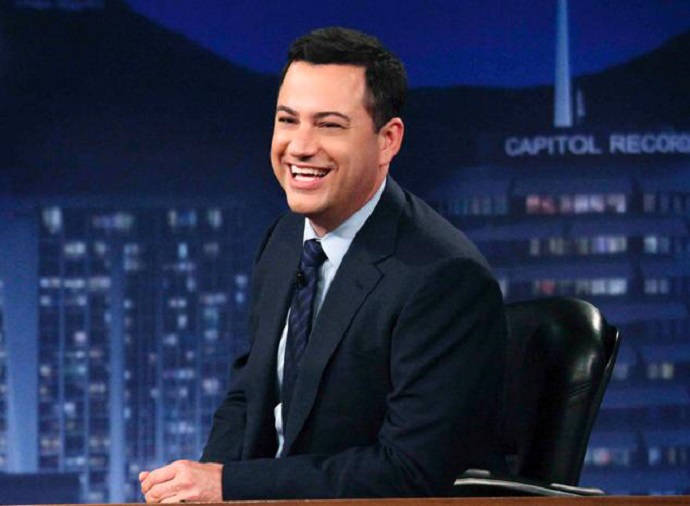 Just a week after their explosive Twitter feud, Jimmy Kimmel could not help but comment on the newest revelation that Sean Hannity was a client of President Donald Trump's lawyer Michael Cohen.
Kimmel opened up his late night show by saying, "This morning, Michael Cohen was forced to reveal the name of a mystery third client. He tried everything to keep it secret, but the judge ordered him to reveal the name of client number three. And shockingly, that client turned out to be my pal Sean Hannity. Isn't that interesting?"
READ: Oscars 2018 Best Dressed Slideshow
Following the news that Hannity was a secret client of Cohen, he took to Twitter to explain that Cohen "has never represented [him] in any manner."
Kimmel read the tweet to his audience and jokes that he also wants Cohen as his lawyer, since "apparently he works for free."
"That sounds normal. He has a lawyer he doesn't pay," Kimmel joked. "By the way, I'm thinking of hiring Michael Cohen as my lawyer. He only has three clients and apparently he works for free. He doesn't take money from anyone."
Kimmel was not the only late night comedian to weigh-in on the situation. Stephen Colbert from The Late Show and Trevor Noah from The Daily Show shared their comments about Hannity and Cohen.
Colbert noted that Cohen's only other two clients are President Trump and Elliot Broidy, the deputy finance chairman for the RNC. Colbert refers back to how they needed Cohen help to pay off their former mistresses.
READ: Grammys 2018 Best Dressed Slideshow
"Cohen only has two other clients and all he does for them is pay off mistresses," Colbert joked, "which raises the obvious question, who did Sean Hannity have sex with?"
Noah also joked about on his about how suspicious it looks that Hannity is connected to Cohen.
"Yeah, it turns out Michael Cohen's secret client was Sean Hannity, which I'm sorry, is not a good look," Noah said. "You know right now Sean Hannity is probably on the phone with his wife like, 'Hey honey, it's so weird how I use the guy who pays off mistresses to get me out of that parking ticket.' "