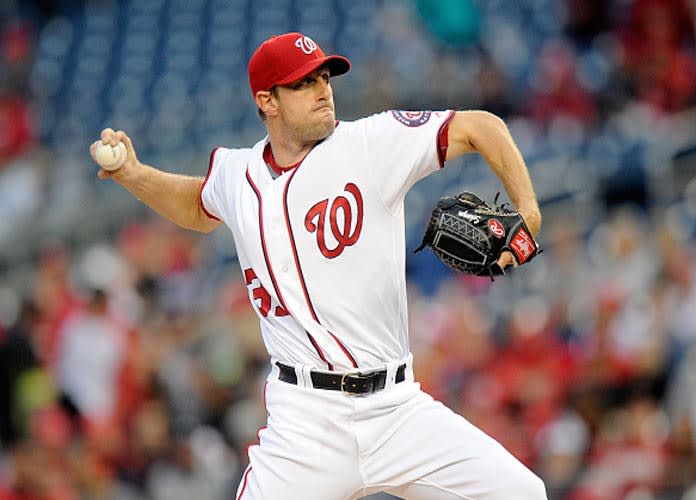 Washington Nationalsstarter Max Scherzer had a stellar night on Tuesday, when his team secured a 4-2 home victory over the Tampa Bay Rays.
Max Scherzer Logs Immaculate Inning Vs. Rays
The right-hander tossed an "immaculate" inning in the top of the sixth, the second hitless frame of his career after delivering one against Philadelphia in May 2017. Scherzer struck out Christian Arroyo, Johnny Field and Daniel Robertson with just nine pitches.
"I honestly didn't know it happened," said Scherzer, who has won consecutive Cy Young Awards, to ESPN. "Then I walked off the field and I was like, wait a second, I think that was it. So yeah, that's cool."
According to ESPN Stats & Information, Scherzer is only the fifth pitcher in major league history to log several immaculate innings. Last year, Scherzer won the Cy Young by a big margin.
One other pitcher has thrown an immaculate frame thus far this season: Baltimore's Kevin Gausman, who also struck out three Cleveland Indians players with nine tosses on April 24.
According to Sports Illustrated, Nolan Ryan, Randy Johnson, Sandy Koufaux and Lefty Grove are the only four other MLB pitchers to deliver more than one immaculate inning.
Scherzer, a five-time All-Star, leads the majors in strikeouts (he led the National League in strikeouts in 2016 and 2017) and boasts a 1.95 ERA and is believed to be a strong contender to win another Cy Young.
The Nationals (34-25) are second in the NL East, only one game behind the Atlanta Braves (36-25). They host the Rays again at 1:05pm EST on Wednesday before beginning a three-game series against the San Francisco Giants on Friday at 7:05pm EST.