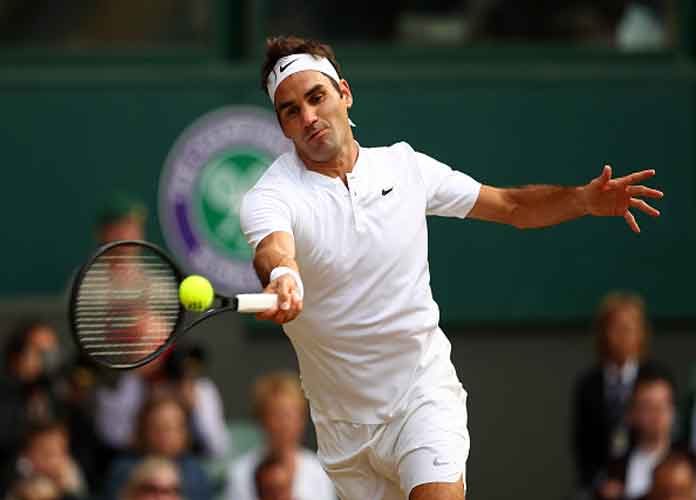 Roger Federer crashed out of Wimbledon on Wednesday following a 2-6 6-7(5) 7-5 6-4 13-11 quarterfinal loss to South African Kevin Anderson. 
Roger Federer Eliminated From Wimbledon
The 36-year-old Swiss, who was the top seed at the tournament this year, won the first two sets but 32-year-old Anderson, the No. 8 seed, rallied to advance to the last four, where he will meet ninth-seeded American John Isner on Friday.
Federer was seeking his ninth Wimbledon trophy. He had last played at Centre Court in 2015. On Wednesday, he wasted a match point in the 10th game of the third set and after five sets, four hours and 14 minutes, Anderson earned the victory.
SLIDESHOW: 30 Best Sports Instagrams! 
Wednesday's game marked one of the largest upsets at All England Club this year, particularly since Anderson had never before won a set against Federer in any of the other four matches the pair played.
The other men's semi-final on Friday will see No. 2 seed Rafael Nadal face 12th-seeded Novak Djokovic. 
On the women's side, Serena Williams reached her 10th Wimbledon final after eliminating 13th-seeded German Julia Gorges with a straight-sets (6-2, 6-4) victory. Williams, who is seeking her eighth Wimbledon title, will face 11th-seeded German Angelique Kerber, the World No. 10, in Saturday's final.
SLIDESHOW: Sports Figures Who Died In 2018
Should 36-year-old Williams win on Saturday, the victory would mark the 23-time Grand Slam champion's first title win since becoming a mother. She would also tie Margaret Court's record of 24 Grand Slam singles trophies. Williams also has a chance to surpass Steffi Graf for second place on the list of female Wimbledon winners, behind only nine-time winner Martina Navratilova.
Kerber and Williams previously met in the Wimbledon final in 2016, when the latter player won.