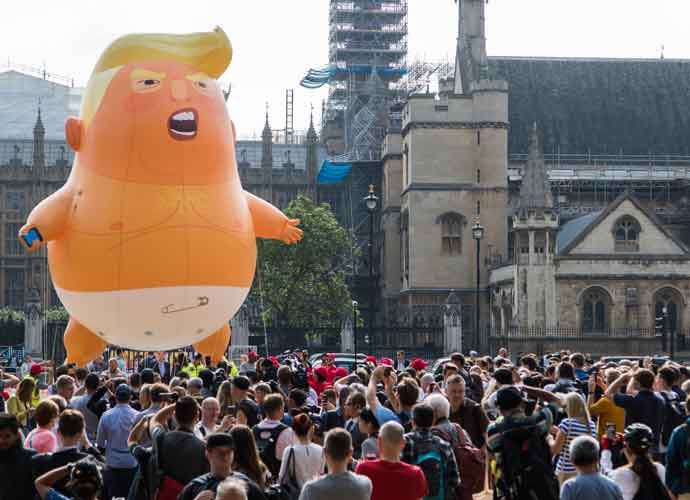 Several organized marches demonstrated on Friday in the streets of central London to protest the U.K. visit of President Donald Trump and his wife Melania Trump.
Up to 250,000 demonstrators were expected to march against Trump's policies on issues ranging from immigration and race relations to women's issues and climate change. It was the biggest weekday protest in London's streets since demonstrations against the Iraq war in 2003.
A giant ballon that represents Trump as an angry, screaming orange baby in a diaper, clutching a cell phone with Twitter on the screen provided the visual cornerstone of the anti-Trump protests. The "Trump Baby" flew over Parliament Square in London. Leo Murray, who calls himself "Trump baby's" daddy, said that the 20-foot-high protest balloon design was chosen deliberately because Trump, "is uniquely vulnerable to personal insults, so we just got right down at his level, to speak to him in a language that he understands," according to BBC News.
Michael Avenatti, the attorney for porn actress and presidential antagonist Stormy Daniels, was in London on Friday to participate in the Women's March protesting Trump's visit to the U.K.
SLIDESHOW: DONALD TRUMP'S 30 CRAZIEST TWEETS
"I think the president's visit is like a lot of things the president does — it's insufficient," Avenatti told CBS News. "He's trying to avoid the protests because he wants to bury his head in the sand and doesn't want to look at what's really going on and face the facts. At some point this president needs to step up or step out."
Many on the streets in London emphasized the protests were against Trump rather than America. "Love America, hate Trump," read one sign. "This protest is not anti-American," said London's Mayor, Sadiq Khan in a statement on Thursday. "Most of those marching on Friday will love the United States, just as I do," The Times reported.
According to recent surveys by the non-partisan British polling organization YouGov, only 11 percent of Britons said they thought Trump was a "great" or "good president." By contrast, 67 percent said they believed he was a "poor" or "terrible president."
On Thursday, at the NATO summit in Brussels, Trump declared, "I think they like me a lot in the U.K."