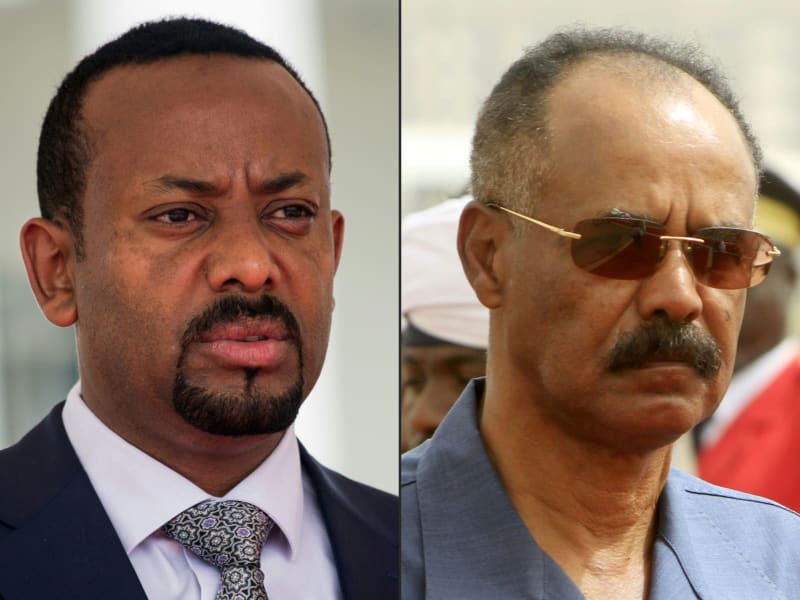 Addis Ababa (AFP) - Eritrean President Isaias Afwerki arrived in Ethiopia on Saturday for a historic visit to cement peace less than a week after the two nations declared an end to a two-decade conflict, an AFP reporter said.
The trip comes just five days after Ethiopian Prime Minister Abiy Ahmed visited Eritrea as part of a dizzying peace process aimed at ending decades of animosity and conflict between the neighbours who were once part of the same nation.
"Welcome home President Isaias!!" Abiy's chief of staff Fitsum Arega wrote on Twitter.
At the airport, three marching bands and traditional dancers were gathered along the red carpet where Abiy greeted Isaias as a brass band played at the start of his three-day visit. 
Along the main road from the airport, thousands of Ethiopians dressed in white shawls waved palm fronds, while Ethiopian and Eritrean flags flew side-by-side on the streets of the capital.
There were also banners and pictures of the two leaders who on Monday signed a declaration declaring an official end to the war.
Eritrea was once part of Ethiopia and comprised its entire coastline on the Red Sea until it voted for independence in 1993 after decades of bloody conflict.
The move left Ethiopia landlocked, and the deterioration of relations after the outbreak of the war in 1998 forced Addis Ababa to channel its sea trade through Djibouti.
The two countries have shown little signs of rapprochement since the signing of the Algiers peace agreement in 2000 after a conflict which left 80,000 people dead before settling into a bitter cold war.
Whirlwind reforms
Analysts say the surprisingly-rapid burying of the hatchet was possible only because of Abiy's ascension to the post of prime minister in April.
As part of a whirlwind set of reforms, Abiy announced last month that Ethiopia would abide by a 2002 UN-backed ruling and hand back disputed border territory to Eritrea, including the flashpoint town of Badme.
He then paid a historic visit to Eritrea, where the two leaders announced the re-establishment of diplomatic and trade ties that could mean big benefits for both nations, and the wider Horn of Africa region, plagued by conflict and poverty.
The emotion-filled reunion between the two countries has allowed residents to speak to each other by telephone for the first time in two decades as communication lines were re-opened.
Direct flights are due to start next week.
Eritrean Information Minister Yemane Gebremeskel said on Twitter Friday that Isaias's visit "will cement further/add momentum to the joint march for peace and cooperation set in motion by both leaders." 
Ethiopia's state-affiliated Fana Broadcasting Corporate said Isaias would stay three days during which the Eritrean embassy would be reopened and his delegation would visit an industrial park. 
A state dinner in his honour will be held on Sunday.
Catalyst for change
Eritrea and Ethiopia are both among Africa's poorest nations. 
However, Ethiopia has seen its economy grow by double-digits in recent years and is seeking wider options for importing and exporting its goods by eyeing ports in Somalia and Eritrea.
Meanwhile Eritrea, one of the world's most isolated nations, has pursued policies that have hamstrung the economy by scaring off investors, including an indefinite military conscription programme the UN has likened to slavery.
Amnesty International said Saturday that the newfound peace should be a catalyst for change in Eritrea, where thousands of people, including rights activists and opposition politicians are "languishing in detention simply for expressing their views."
"The end of hostilities with Ethiopia is a joyous moment for Eritreans, but it must be followed by tangible reforms that make a real difference in the daily lives of the people and put an end to decades of repression in the country," said Seif Magango. AI's deputy director for the region.
In a statement he said Eritrea was the biggest jailer of journalists on the continent, and that its last independent media house was shut down 17 years ago.
Amnesty also called for an end to forced military conscription, seen as a key driver of the departure of hundreds of thousands of Eritreans from their country.