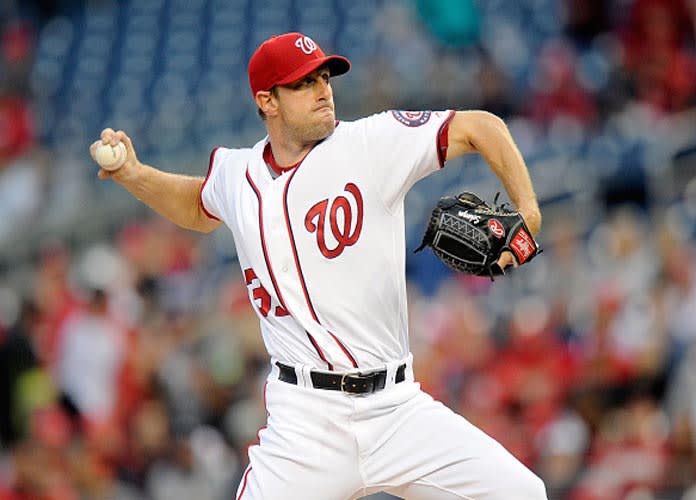 The 2018 MLB All-Star Game will be held at Nationals Park in Washington on Tuesday night, and here is what you need to know.
MLB All-Star Game 2018 Preview
The game will start at 8 p.m. EST and will air on Fox. The Red Carpet Show will begin at 3 p.m. EST on MLB Network.
SLIDESHOW: 30 Best Sports Instagrams! 
Nationals pitcher Max Scherzer will be the NL starter, while Red Sox ace Chris Sale will take the mound for the AL. Another National, outfielder Bryce Harper, beat the Chicago Cubs' Kyle Schwarber on Monday night to win the Home Run Derby.
Here are the full lineups for the contest:
American League
Mookie Betts (Red Sox) – RF Jose Altuve (Astros) – 2B Mike Trout (Angels) – CF J.D. Martinez (Red Sox) – DH Jose Ramirez (Indians) – 3B Aaron Judge (Yankees) – LF Manny Machado (Orioles) – SS Jose Abreu (White Sox) – 1B Salvador Perez (Royals) – C
SLIDESHOW: Sports Figures Who Died In 2018
National League
Javier Baez (Cubs) – 2B Nolan Arenado (Rockies) – 3B Paul Goldschmidt (Diamondbacks) – DH Freddie Freeman (Braves) – 1B Matt Kemp (Dodgers) – LF Bryce Harper (Nationals) – CF Nick Markakis (Braves) – RF Brandon Crawford (Giants) – SS Willson Contreras (Cubs) – C