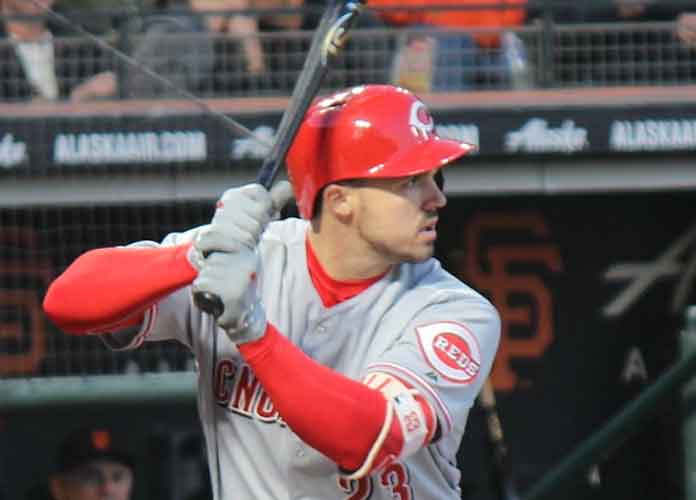 The Atlanta Braves landed power-hitting left fielder Adam Duvall on Monday night in a four-player trade with the Cincinnati Reds.
Reds' Adam Duvall Traded To Braves
The Reds acquired righty pitchers Matt Wisler and Lucas Sims, as well as outfielder Preston Tucker, as part of the deal.
Duvall, 29, counts 15 home runs and 61 RBIs this season, although he is hitting just .205. His OPS+ in 2018 has been a low 83, according to CBS Sports. The outfielder isn't scheduled to become a free agent until the 2021 season is over. Duvall was an NL All-Star in 2016.
SLIDESHOW: 30 Best Sports Instagrams! 
In other free agency news, Washington Nationals president and general manager Mike Rizzo announced Tuesday afternoon that All-Star right fielder Bryce Harper won't be traded before Tuesday's 4pm EST non-waiver deadline. Harper won this year's Home Run Derby.
Some baseball pundits had predicted Harper to be sent to the Cleveland Indians, Los Angeles Dodgers, Chicago Cubs or Arizona Diamondbacks, but Rizzo made clear that the outfielder is staying in Washington The Nationals (52-53) are third in the NL East, 5.5 games behind the first-place Philadelphia Phillies and five games behind the second-place Braves. All signs seem to indicate that Harper wasn't traded partly because they were not offered a valuable enough player in return.
USA Today's Bob Nightengale provided further insight into the Nationals' current roster plans, citing Rizzo:
30 SPORTS FIGURES WHO DIED IN 2018 – TRIBUTE SLIDESHOW