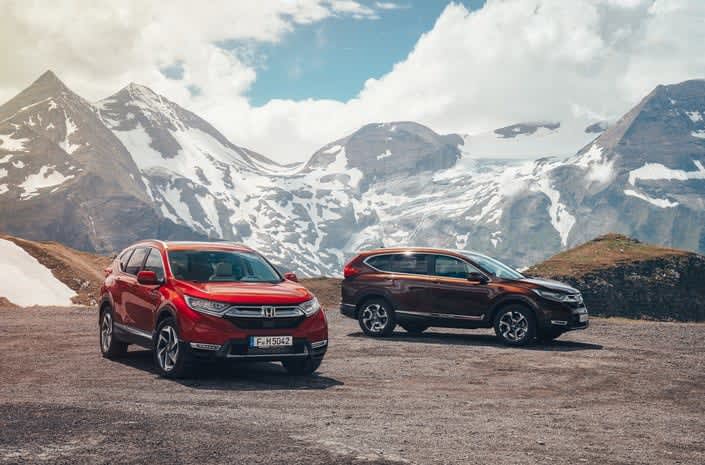 Familiar vehicle models don't get much bigger-selling than the Honda CR-V, so this is a crucial time for Honda as it releases European pricing and specification details of its all-new fifth-generation version of the compact crossover.
It's always great to hear about exciting new models, but major vehicle manufacturers like Honda can't afford to take their eye off the ball by neglecting their existing bread-and-butter nameplates in the pursuit of all that's new and shiny.
Though some observers might call the CR-V a rival to the popular SEAT Ateca, it's really the other way round, as SEAT would love the Ateca to get anywhere near the global sales of the Honda CR-V.
When the latest version of the CR-V goes on sale in September, prices will start from around €29,000 (£26,000), and as well as the restyled exterior and interior there will be some major revisions to the CR-V format. That's because for the first time in its illustrious life, the CR-V will be available with the option of seven seats, and also as a hybrid.
The entry-level model for the 2019 model year will be the S, and from there the range will go onwards and upwards to the SE, SR and the top-of-the-line EX. The SR will boast leather upholstery and advanced safety features such as blind spot warning and cross traffic monitoring, while the top-spec EX adds a heated steering wheel and rear seats, a head-up display, an electric tailgate and a panoramic sunroof.
Under the bonnet there will be a choice of three different powerplants, although both the conventional petrol engines are based on the same 1.5-liter turbocharged unit. The base engine develops 170bhp and comes mated to a manual gearbox and front-wheel drive in the entry level S and the SE, while SE, SR and EX models can be optioned with four-wheel drive. The SE, SR and EX are available with a 188bhp version of the engine, which also gets Honda's impressive CVT transmission.
For an additional €1,900 (£1,700) the CR-V can be had with seven seats in SE and SR variants, with a manual or an automatic gearbox.
The CR-V will also offer a hybrid engine option for the first time this year, a 2.0-liter four-cylinder petrol engine connected to a pair of electric motors which Honda is grandly calling the Intelligent Multi Mode Drive (i-MMD). The system breaks from recent hybrid convention a little, as one of the motors is for propulsion, while the other is primarily an electric generator.