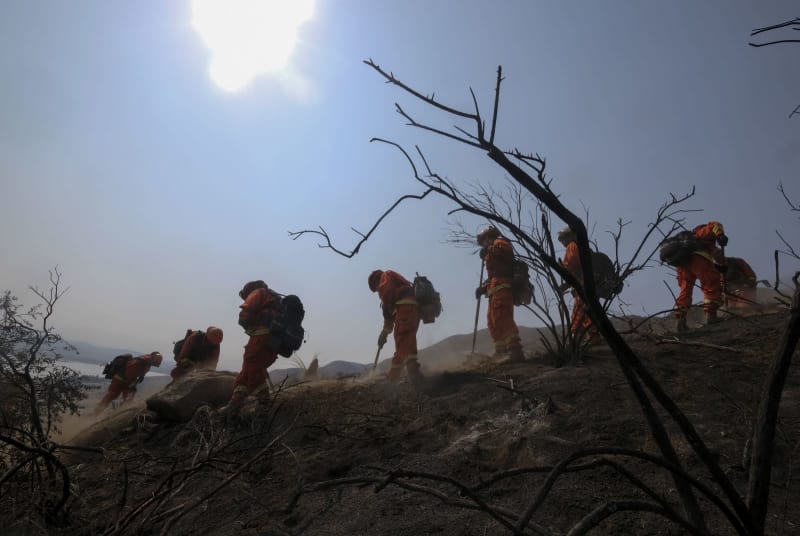 Los Angeles (AFP) - Firefighters reported Sunday making significant progress against some of the huge wildfires raging across California, but were bracing for more of the soaring temperatures, dry air and gusty winds that have made their job so tough.
Some of the worst fires slowed over the weekend. The so-called Mendocino Complex north of state capital Sacramento -- including the River and Ranch fires, which together form the largest blaze in state history -- burned 3,100 acres (1,250 hectares) overnight, just one-fourth the previous night's toll, local media reported.
The Carr fire in the north, which has destroyed more than 1,000 homes, grew only modestly overnight, as containment lines improved.  
The so-called Holy Fire, in southern Orange and Riverside counties, was 41 percent contained as of early Sunday, having burned more than 22,000 acres, fire officials and local media reported.  
More than 1,200 firefighters -- supported by some inmates from a local jail -- were battling that blaze, which was continuing to spread to the north and east, prompting a new round of evacuations.
Steep terrain
Their task was complicated by steep terrain making it difficult for fire trucks to approach. More than 25 aircraft were being used to drop water and fire-retardant chemicals.
Some 18 blazes are continuing to scorch wide areas across California. 
The Ranch fire, part of the Mendocino complex, was 58 percent contained as of Saturday, while the River fire was 92 percent contained, news media reported. The two blazes have devastated an area of more than 325,000 acres so far. 
Authorities have charged a 51-year-old man, Forrest Gordon Clark, with multiple arson-related charges in connection with the Holy Fire.
A court set bail for Clark, who has had repeated encounters with local police over the years, at $1 million.
He could face anywhere from 10 years to life in prison if convicted. Clark has rejected the charges, calling them a "lie."