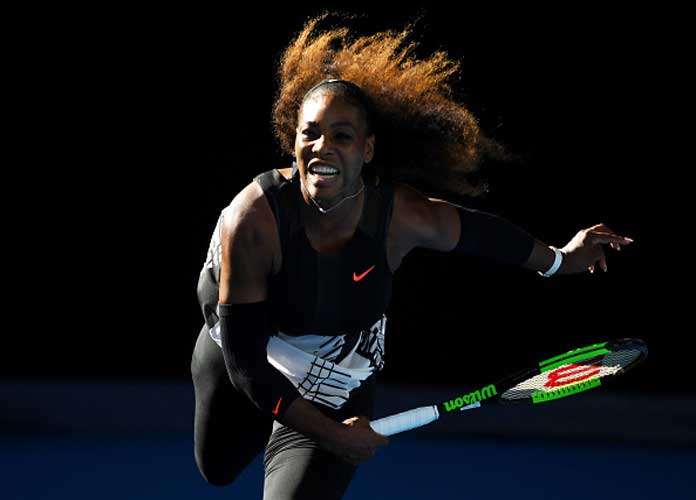 Naomi Osaka may have captured her first Grand Slam trophy on Saturday by winning the U.S. Open, but it was her opponent Serena Williams who became the center of attention after arguing with the umpire.
Serena Williams Feuds With Umpire In U.S. Open Final
In the last set of the final, the 36-year-old superstar became upset with umpire Carlos Ramos. Williams accused him of cheating and called him a "thief" for stealing a game-winning point from her. The 23-time Grand Slam champion eventually drew a coaching violation.
"You will never, ever, ever be on another court of mine as long as you live. You are the liar. When are you going to give me my apology? You owe me an apology. Say it. Say you're sorry. … And you stole a point from me. You're a thief, too!"
SLIDESHOW: 30 Best Sports Instagrams! 
Williams also cited her new status as a mother to insist that she would never cheat because she hopes to always set a good example for her daughter.
Osaka, a 20-year-old from Japan, defeated No. 17 seed Williams 6-2, 6-4 for her first major title, although the trophy ceremony was blemished by boos from the crowd and tears from both Williams and Osaka. However, Williams was then shown comforting her opponent, and implored the crowd at Arthur Ashe Stadium to stop booing and "stay positive."
Though many condemned Williams for stealing the spotlight from Osaka, several prominent tennis stars and organizations rushed to defend the American star, saying a male player would not likely have been penalized for showing a similar kind of frustration on the court.
Billie Jean King, the World Tennis Association and the U.S. Tennis Association all backed Williams. King, a 39-time Grand Slam champion, said in a Washington Post op-ed she believed Williams was the victim of yet another clear example of sexism, racism and people "abusing" their authority.
"What was supposed to be a memorable moment for tennis, with Serena Williams, perhaps the greatest player of all time, facing off against Naomi Osaka, the future of our sport, turned into another example of people in positions of power abusing that power," King said.
According to People magazine, Williams received a $17,000 fine for verbally abusing Ramos and for breaking a racket.
30 SPORTS FIGURES WHO DIED IN 2018 – TRIBUTE SLIDESHOW
"Women are treated differently in most arenas of life," 74-year-old King continued in her piece. "This is especially true for women of color. And what played out on the court yesterday happens far too often. It happens in sports, in the office and in public service. Ultimately, a woman was penalized for standing up for herself. A woman faced down sexism, and the match went on."
Much of the sexism that female tennis players like King faced in the 1970s and before that was portrayed in the 2017 biopic film Battle of the Sexes, in which Emma Stone played King.
U.S.TA President Katrina Adams praised Williams for her words and actions in the trophy ceremony in a statement, saying: "What Serena did on the podium today showed a great deal of class and sportsmanship. This was Naomi's moment, and Serena wanted her to be able to enjoy it. That was a class move from a true champion."
In the press conference after Saturday's final, Williams insisted she believes sexism continues to pervade professional tennis.
"I've seen other men call other umpires several things. And I'm here fighting for women's rights and for women's equality."