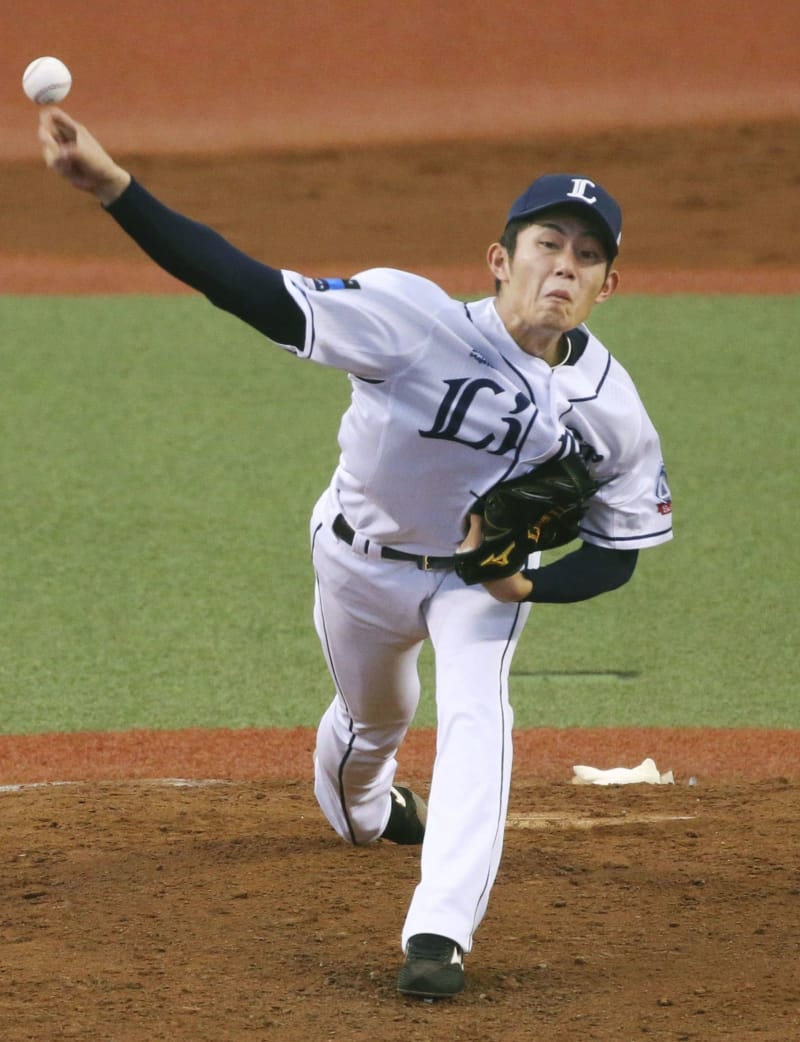 Tatsuya Imai came out on top in a rookie pitching duel Sunday as the Seibu Lions' lineup slugged early against the SoftBank Hawks for an 8-5 win in the Pacific League.
Imai (5-4) fanned four and yielded three runs at MetLife Dome. The right-hander, who was the Lions' first round pick in the 2016 draft, was bolstered by back-to-back four-run innings.
SoftBank left-hander Kotaro Otake (2-1) allowed eight runs in 1-2/3 innings and suffered his first loss of the season.
Hawks leadoff man Taisei Makihara singled against Imai in the first and advanced to second on a sacrifice bunt, but right-fielder Yuji Kaneko displayed some early heroics with a spectacular diving catch of a fly ball from Akira Nakamura.
Imai fanned cleanup batter Yurisbel Gracial to end the threat.
In the bottom of the inning, Sosuke Genda's RBI triple off Otake spearheaded a four-run rally. Hideto Asamura doubled in Genda to make it 2-0, and Hotaka Yamakawa's two-run homer doubled the Lions' lead.
In the second, Kaneko drew a walk from Otake and stole second, and Genda singled to right for his second RBI of the game. Otake then yielded back-to-back hits, including one to Yamakawa allowing Genda to wheel home again.
Otake was relieved by fellow SoftBank rookie Rei Takahashi with runners on first and third following a groundout. The submarine right-hander immediately gave up a two-run RBI double to Takeya Nakamura and the PL-leading Seibu doubled their score again for an early 8-0 lead.
Imai got into a two-out jam in the third after giving up two straight hits and allowed a run on a wild pitch. He yielded a leadoff double to Gracial and issued a walk in the fourth, and allowed the Hawks to close the gap on Kenji Akashi's two-run knock to right field.
A close out at first was deemed safe in the top of the sixth, overruling a double play and putting runners on the corners. Imai was replaced by recently-acquired Seibu lefty Ryuya Ogawa, who put out the fire with an inning-ending strikeout.
Seibu reliever Shogo Noda pitched a scoreless seventh, but Kyle Martin allowed a run in the eighth.
Deunte Heath loaded the bases in the ninth on three straight singles, but fanned two and coaxed a groundout over the next four batters to limit the damage. Nobuhiro Matsuda batted in the Hawks' final run.
Takahashi, Livan Moinelo and Shuta Ishikawa allowed three hits in a combined 6-1/3 scoreless innings for SoftBank.
In a practice before the game, Hawks outfielder Yuki Yanagita was hit by a batted ball and suffered a bruise on the left side of his head. Yanagita was taken by ambulance to a nearby hospital, where it was revealed no concussion or bone fracture had occurred.