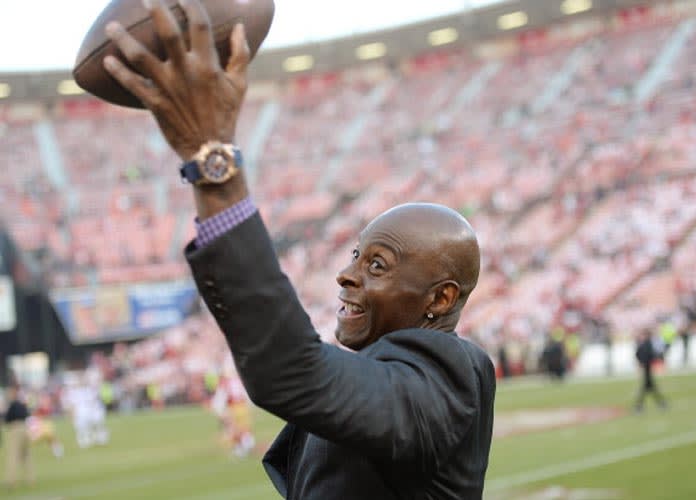 The NFL Hall of Fame Board sent a letter to commissioner Roger Goodell, Players Association executive director DeMaurice Smith and the Hall of Fame's president David C. Baker. In it, many high-profile Hall of Famers stated they would boycott the annual introduction ceremony until Hall of Famers receive health insurance and an annual salary, including a pension.
NFL Legends Threaten To Boycott League
Names like Eric Dickerson, chair of the new board, Jerry Rice, Kurt Warner, Marcus Allen, Mel Blount, Derrick Brooks, Jim Brown, Earl Campbell, Marshall Faulk, Ronnie Lott, Curtis Martin, Joe Namath, Deion Sanders, Lawrence Taylor and Sarah White, Reggie White's widow, were on the letter.
In it, they said, "We, the undersigned Pro Football Hall of Famers, were integral to the creation of the modern NFL, which in 2017 generated $14 billion in revenue." The letter goes on, saying, "People know us from our highlight reels. They see us honored and mythologized before games and at halftime, and it would be reasonable if they thought life was good for us. But on balance, it's not. As a group we are struggling with severe health and financial problems. To build this game, we sacrificed our bodies. In many cases, and despite the fact that we were led to believe otherwise, we sacrificed our minds. We believe we deserve more. We write to demand two things: Health insurance and annual salary for all Hall of Famers that includes a share of league revenue." The signers stated that "more than a few of us don't even know who or where we are. Our long careers left us especially vulnerable to the dangers of this violent sport, especially those intentionally hidden from us."
They also questioned Goodell's $40 million annual salary, $6.5 million more than the highest-paid player, as well as a $1 billion dollar Hall of Fame village being built in Canton, Ohio. The letter outlines that the total cost to provide Hall of Famers with health care is less than $4 million. The NFL makes that with a 30-second Super Bowl commercial. It's .05% of the league's annual revenue. Yet they refuse to provide it. By comparison, one day in MLB provides any player with lifetime healthcare.
SLIDESHOW: 30 Best Sports Instagrams! 
This comes as the NFL prepares to celebrate it's 100th anniversary in 2020.  The letter states,"Until our demands are met, the Hall of Famers will not attend the annual induction ceremony in Canton. It's well-known that the NFL is celebrating its 100th anniversary in 2020, and while we are proud of our role in building this league, we don't believe 100 years of player exploitation is something to celebrate. As we approach this momentous date, we challenge the NFL to honor its past by helping retired players instead of exploiting their images for marketing purposes."
The move has been criticized. Rice said he wasn't part of the board and will not boycott the ceremonies. However, he does support efforts to improve health insurance and benefits to all current and retired NFL players.
Warner also claimed his name was mistakenly attached to the letter but said he does support the effort to gain better lifetime benefits for all NFL players.
30 SPORTS FIGURES WHO DIED IN 2018 – TRIBUTE SLIDESHOW
After being asked why the plan is only for Hall of Famer's, Dickerson told ESPN: "The players make the NFL. It's not those jerseys, it's the players. I just want everything to be fair. We're not trying to beat the league. Playing in the NFL was an honor, but treat us fairly. Treat us like people think that we're treated. People think we have this great pension. We don't. We don't have health care after five years. It's not right, but this is for all players. That's my big goal, but we have to start somewhere first. We have to start with the Hall of Famers to get this off the ground."