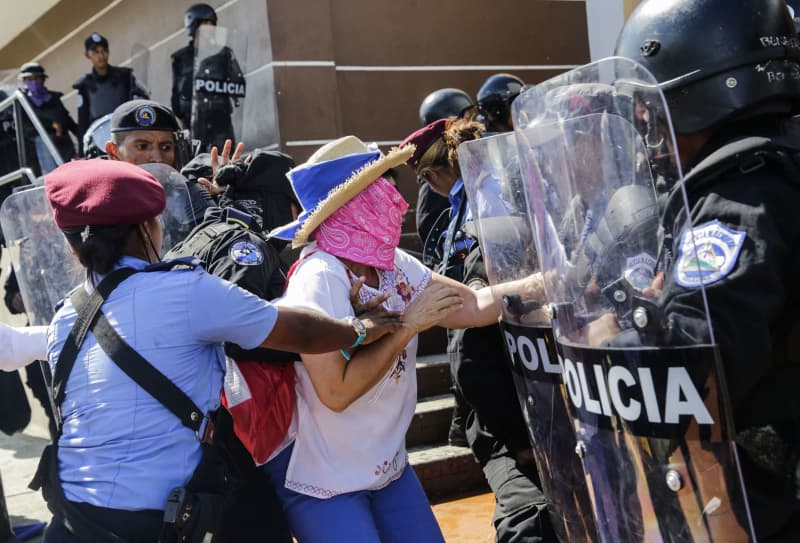 Managua (AFP) - Nicaragua's government on Monday freed 30 protesters who had been detained in a violent police intervention as they tried to march in Managua.
The arrests Sunday triggered a wave of criticism of the government of President Daniel Ortega, who has faced steady protests and calls for his resignation in a grassroots drive that began in April. More than 320 people have died in unrest associated with the movement. 
Ortega, who led the Sandinista revolution in 1979, has been back in power since 2007 and is accused of running a corrupt and cruel leftist dictatorship along with his wife, Vice President Rosario Murillo.
Human rights groups welcomed the release of the detainees but said another 500 people also arrested after protesting against the government are still in prison.
In Sunday's violence, police wielded clubs and hurled stun grenades to break up the demonstrators gathering at a shopping mall parking lot, beating men, women and even elderly people.
Some of those freed Monday from the maximum security prison known as El Chipote raised their fists in the air and shouted, "Long live free Nicaragua!" They hugged relatives waiting for them outside the jail.
"It is clear that no evidence of any crime was found, and here we are, free. We wish this were the case for other political prisoner," said Ana Vigil, leader of a dissident group called the Sandinista Renewal Movement and one of those freed from the prison.
Police had argued that the protesters did not have the permit they needed to stage a march.
The arrests drew condemnation from the Organization of American States and the United Nations High Commissioner for Human Rights, among other organizations.
Anti-government demonstrations began on April 18, initially protesting changes in the social security system.
Since then they have grown in size and the protesters are calling for the resignation of Ortega and Murillo.