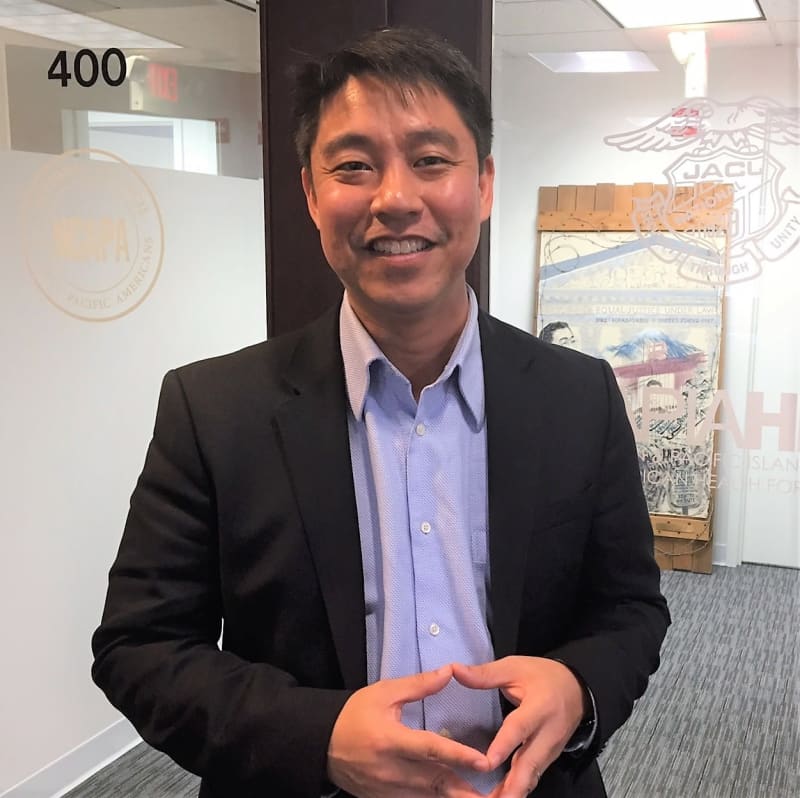 With opinion polls indicating the Democratic Party may win back a majority in the House of Representatives in the U.S. midterm elections on Nov. 6, many Japanese Americans will vote for Democratic candidates in protest against President Donald Trump's hardline approach to immigration.
Similarly, Asian American voters more broadly favor Democratic over Republican candidates by about a two-to-one ratio in both the House and Senate races, a recent survey shows. Democrats hold an advantage on issues such as health care, racial discrimination, the environment and gun control, it says.
A leading advocate of civil rights for Japanese Americans -- whose numbers, according to Pew Research Center data, totaled 1.4 million in 2015 -- draws parallels between Trump's anti-immigrant rhetoric and the incarceration of 120,000 Japanese Americans in the United States during World War II.
"For many Japanese Americans, our disagreements with the policies of the Trump administration are deeply personal," said David Inoue, executive director of the 8,000-member Japanese American Citizens League.
In reflection of Inoue's feeling, only 14 percent of Japanese Americans are happy with Trump's job performance, compared with 24 percent for Chinese Americans and 28 percent for Indian Americans, according to a survey conducted by Asian and Pacific Islander American Vote and Asian Americans and Pacific Islanders Data.
But Republicans fare stronger on issues like taxes and national security, as well as jobs and the economy, the survey says, a sign that the margin of a possible Democratic takeover of the House may be slim.
Polls and political analysts suggest it will be difficult for the Democrats to retake a majority in both chambers. All of the 435 seats in the House and 35 of the 100 seats in the Senate are up for grabs in what will be the first referendum on Trump's two years in office.
Referring to Trump's restrictions on travel to the United States from a handful of Muslim-majority countries, Inoue said, "The Muslim ban hearkens back to the anti-Japanese immigration discrimination of the early 20th century."
"The singling out of Muslims combined with the president's rhetoric is exactly like the racism that led to Japanese American incarceration during World War II," he said.
"The ongoing policy of indefinitely imprisoning refugee families coming to our country is exactly what was done to Japanese American families as well."
Advocating the values of "diversity and inclusion," Democratic Rep. Doris Matsui, a Japanese American seeking re-election in California's sixth congressional district, also criticized Trump's immigration policy.
"The story of our country's progress is inseparably linked to the contributions of millions of immigrants from all over the world," said Matsui, whose parents were interned in a Japanese American internment camp.
Inoue, a "nisei," or second-generation Japanese American, said the JACL -- headquartered in San Francisco and which includes Republican members -- is a nonpartisan organization, but that it "tends to support issues in a way that align with the Democrats."
While Japanese Americans are united in their opposition to Trump's immigration policy, Inoue acknowledged they are divided over his "America First" trade policy, with some supporting the president's calls for protecting American industry and workers.
Some JACL members back the U.S. withdrawal from the Trans-Pacific Partnership, a regional free trade agreement signed by Trump's predecessor Democratic President Barack Obama, because "they felt TPP was not protective enough of some of the industries in the United States," Inoue said.
Such a sentiment is shared by the broader American public. A new poll by the Wall Street Journal and NBC News finds Republicans are preferred over Democrats on trade issues by a 17-point margin, up from an eight-point advantage in August.
Asked about the Trump administration's push to further open agriculture and automobile markets in Japan, as well as a threat to impose tariffs on automobile imports from Japan, Inoue said, "As Japanese Americans, we don't ever want to get into a place where we have hostile trade relations between the United States and Japan."
"Obviously we want to support open trade, but we also want to make sure that American businesses are supported by our government," he said. "It's a very difficult and delicate issue."