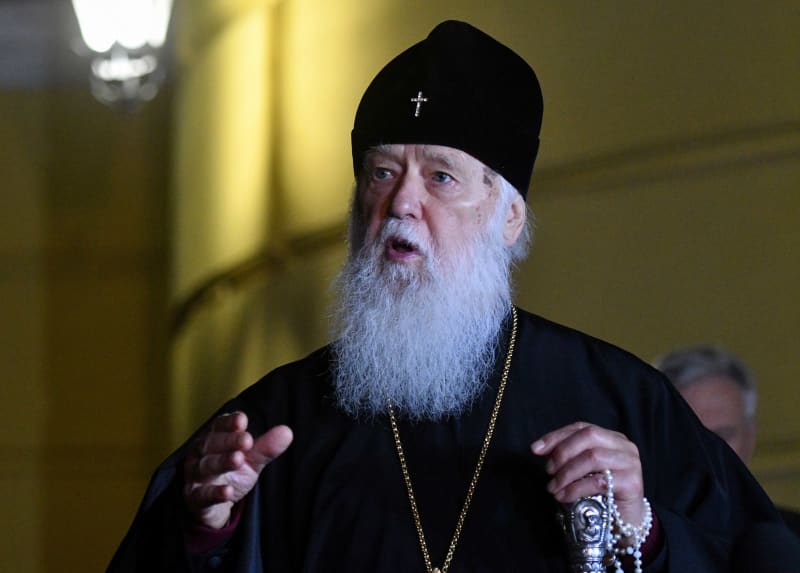 Kiev (AFP) - Ukraine's Patriarch Filaret was one of the top leaders in the Soviet era Russian Orthodox Church. 
But after the Soviet Union crumbled in 1991 and he began a campaign to give his native Ukraine an independent church he was defrocked and excommunicated by Moscow.
Today the 89-year-old is arguably Ukraine's most powerful cleric. He hopes to unite all of the country's churches under his leadership to Moscow's fury.
Filaret, whose secular name is Mykhaylo Denysenko, was born in 1929 in the Donetsk region of eastern Ukraine, which is now controlled by Moscow-backed separatists.
He decided to become a priest after his father was killed during World War II. He studied in Ukraine and Moscow and forged a brilliant career in the Church, holding top posts in Russia and Ukraine.
In 1966, he became Archbishop of Kyiv and Halych and was elevated to Metropolitan two years later, becoming the first ethnic Ukrainian to hold that post in 150 years.
In 1990, he was a frontrunner to become the new Russian Orthodox patriarch but lost out to Alexy II. 
After Ukraine gained independence following the collapse of the Soviet Union in 1991, Filaret began a long-running campaign for the Ukrainian church to gain independence from Russia.
In 1992, Filaret established the Ukrainian Orthodox Church of the Kyiv Patriarchate and was elected patriarch three years later. 
"I decided that the time had come for the Ukrainian church to become fully independent of Moscow," Filaret told AFP. 
The Russian Orthodox Church has never recognised Filaret's church, first defrocking him and then excommunicating him in 1997.
Critics have accused Filaret of fathering secret children and working for the KGB under the Soviets. 
Filaret told AFP the Soviet authorities threatened to execute him if he refused to breach the confidentiality of confession and inform on parishioners. 
"I am not afraid," he said he told them. "It does not matter for me when I die: now or in my old age."
He wholeheartedly supported a popular uprising that ousted a Kremlin-backed regime in 2014, and his church gave shelter to anti-Kremlin protesters, many of whom were beaten by riot police.
After Moscow annexed Crimea and supported a separatist insurgency in eastern Ukraine, Filaret said Russian President Vladimir Putin was possessed by the Devil and compared him to Hitler.
Today, Ukraine is home to three churches: Filaret's church, the smaller Ukrainian Autocephalous Orthodox Church and the Ukrainian Orthodox Church of the Moscow Patriarchate, controlled by Russia.
In a landmark decision this month the Istanbul-based Ecumenical Patriarchate, seen as the first among equals of Orthodox Church leaders, agreed to recognise the independence of the Ukrainian Orthodox Church and reinstated Filaret to his canonical rank.
The move will allow the patriarch to realise his dream of finally breaking free from Moscow's chokehold and establishing a united Ukrainian church.