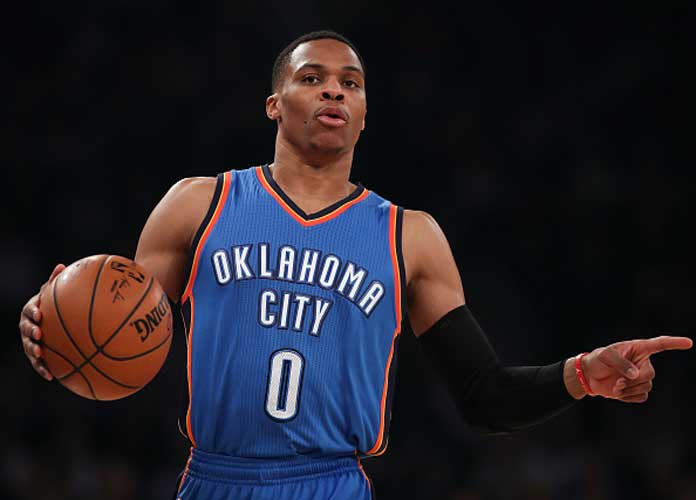 The tension between Russell Westbrook andPatrick Beverley erupted Tuesday night, with double technical fouls and a flagrant foul 1 handed out in the Oklahoma City Thunder's 128-110 win over theLos Angeles Clippers.
Police Break Up Fight In Thunder Win vs clippers
With 6:20 left in the fourth quarter, Beverley was handed a flagrant foul after crashing into Westbrook's knees while diving for a loose ball.
Westbrook lingered by the Clippers' bench and ended up exchanging words with Beverley.
In an attempt to diffuse the situation, Oklahoma City head coach Billy Donovan called a timeout. However, the two had to be separated, and double technical fouls were handed out.
Police stepped on the court, presumably to keep the peace as tensions mounted between the two teams.
"I went for a loose ball. What you think happened?" Beverley said. "Somebody walked to our bench doing all that cappin' stuff; I don't know what that is. Walked to our bench doing this, and all that, and things went kind of haywire from there. Two competitors, no one's going to back down, no one did, two technicals, continue playing."
Westbrook and the team sparked a remarkable third-quarter turnaround, outscoring the Clippers 39-10 in the frame and 74-43 in the second half. Westbrook finished with 32 points on 13-of-25 shooting, four rebounds and nine assists.
Danilo Gallinari led the Clippers with 27 points but only scored four in the second half. Lou Williamsscored 17 points and Tobias Harris put up 15 for Los Angeles.
30 SPORTS FIGURES WHO DIED IN 2018 – TRIBUTE SLIDESHOW
"Russ don't really like nobody out there, so, you know," Paul George said. "He's that fiery regardless of who's matched up against him. It just doesn't make it any better if it's Pat out there."
"They have bad blood," said Clippers head coachDoc Rivers. "There's nothing wrong with that as long as both of them keep it clean … there's nothing wrong with not liking someone in the league as long as guys keep it clean and play hard, play physical."