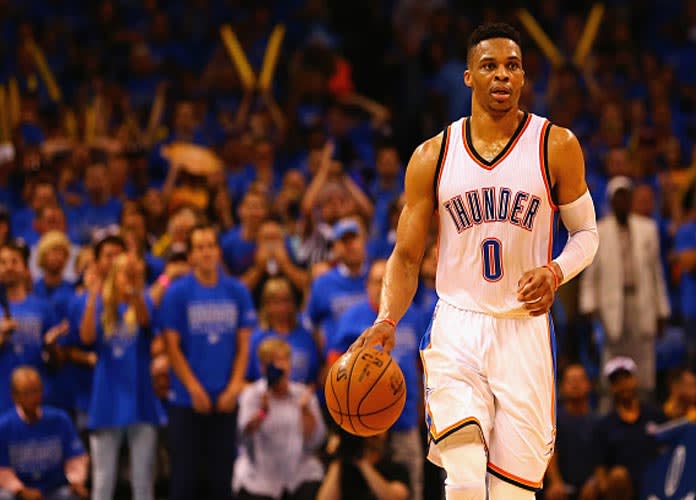 While the Oklahoma City Thunder point guard might play like he's invincible, the NBA is again reminded that he's not. While taking on 6-foot-10 Anthony Davis as the power forward unleashed a floater, Russell Westbrook met his match. The two came down, Davis landed safely, then Westbrook came down onto his foot. Some reported that his ankle "bent so far left that it nearly touched the blue hardwood." Ultimately, Westbrook crumpled. It looked like Oklahoma City's season did too.
Westbrook Suffers Ankle Injury
After letting out a scream, he slapped the floor and limped off the court to the locker room. X-rays came back negative but he was still ruled out for Wednesday's game against the Cleveland Cavaliers. Further examination Tuesday proved that the injury was nothing more than the ankle sprain it was thought to be. The Cavs are facing their own injury problems, as Kevin Love is expected to be out for at least two months following foot surgery.
30 SPORTS FIGURES WHO DIED IN 2018 – TRIBUTE SLIDESHOW
"Russ has a pretty high pain tolerance, so I knew it was something that was serious," teammate Paul George said. "I was just hoping it wasn't his knee. I thought I saw him holding his knee. I think we can all say it's unfortunate, we can all say as bad as it was, we're happy it wasn't the knee and that it was just an ankle sprain."
Westbrook traveled with the team to Cleveland and will be re-evaluated again Thursday. While the Thunder are currently on a five-game win streak, the injury poses an important question. Can the Thunder survive without Westbrook? The ultra-athletic guard is only six days away from 30. Players who attack the rim and run down the court faster than the ball don't tend to age well, especially when they stat-pad and don't have a consistent three-point shot. Now, the pressure falls on George, who could easily regret not leaving for the Lakers, and Dennis Schroder. Last season, when Westbrook was off the court , the offense produced 9.7 points less per 100 possessions. Schroder was acquired this offseason to: one, dump Melo's contract, and two, to function as a second-unit backup to Westbrook. He's good but the 25-year-old German isn't today's Westbrook, nor 2013-2014 Westbrook. The handful of games should position general manager Sam Presti towards looking at life without his star.
Westbrook is expected to be back later this week with the Thunder remaining conservative about his health. His teammates should expect him to most likely be back on Sunday versus the Dallas Mavericks.