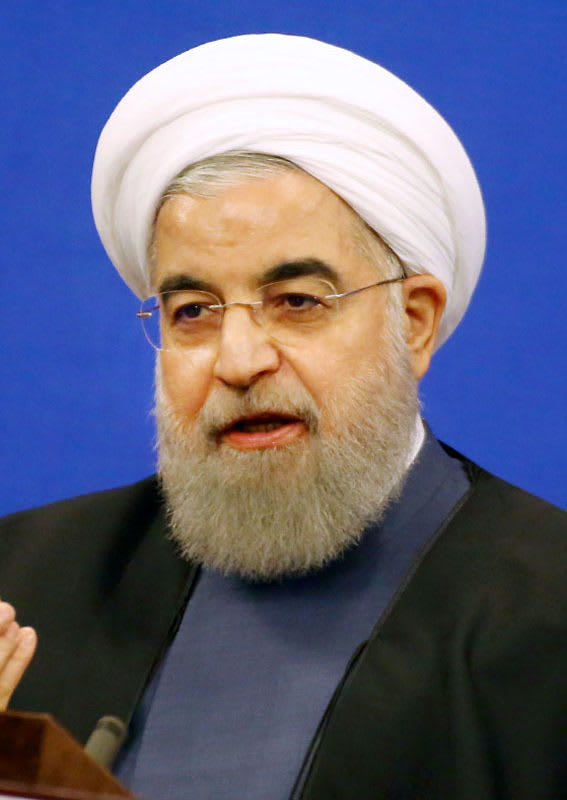 Iranian President Hassan Rouhani said Saturday that sanctions that were reimposed this week by the United States on his country's key energy and banking sectors have had no effect on the economy.
In remarks carried on state television, Rouhani called the sanctions "just a psychological war" and said Iran is ready for long-lasting sanctions.
"I can assure Iranians that we don't have any problem providing essential goods," he said, adding that the country has enough stockpiles of necessities for many months of sanctions.
He spoke after a meeting with the heads of the parliament and the judiciary to address the post-sanctions situation.
On Monday, U.S. President Donald Trump's administration reimposed sanctions on Iran's energy, banking, shipbuilding and shipping sectors in a bid to compel Tehran to end its nuclear program and support for militant groups in the Middle East.
Trump began reimposing sanctions on Iran following the U.S. withdrawal from the 2015 nuclear deal earlier this year.
While assuring the Iranian people that the government will do its best to shield them from the effects of the sanctions, Rouhani disputed U.S. claims that the sanctions are not targeted at ordinary people.
"The U.S. has targeted our banking network and oil exports, which directly affect the country's income and also wreck people's daily lives," he said.
Counter to Washington's claims, imposing sanctions on the banking network and money transfers via international routes creates obstacles to the people's access to medicine, food and humanitarian relief, Rouhani added.
Rouhani also said that while the U.S. administration is trying to cut Iran's oil exports to zero, sanctions waivers granted to eight countries to prevent a spike in global oil prices show that Trump is not able to stop the exports.
The waivers allow Iran's biggest buyers -- China, India, South Korea, Japan, Italy, Greece, Taiwan and Turkey -- to keep buying Iranian oil for 180 days.
Under the deal struck between Iran and six major powers -- Britain, China, France, Germany, Russia and the United States -- in Vienna in 2015, Tehran agreed to curb its nuclear activities in exchange for the lifting of crippling economic sanctions.
On May 8, Trump withdrew the United States from the accord struck under his predecessor Barack Obama and pledged "the highest level of economic sanction" against Iran, calling it "the leading state sponsor of terror."