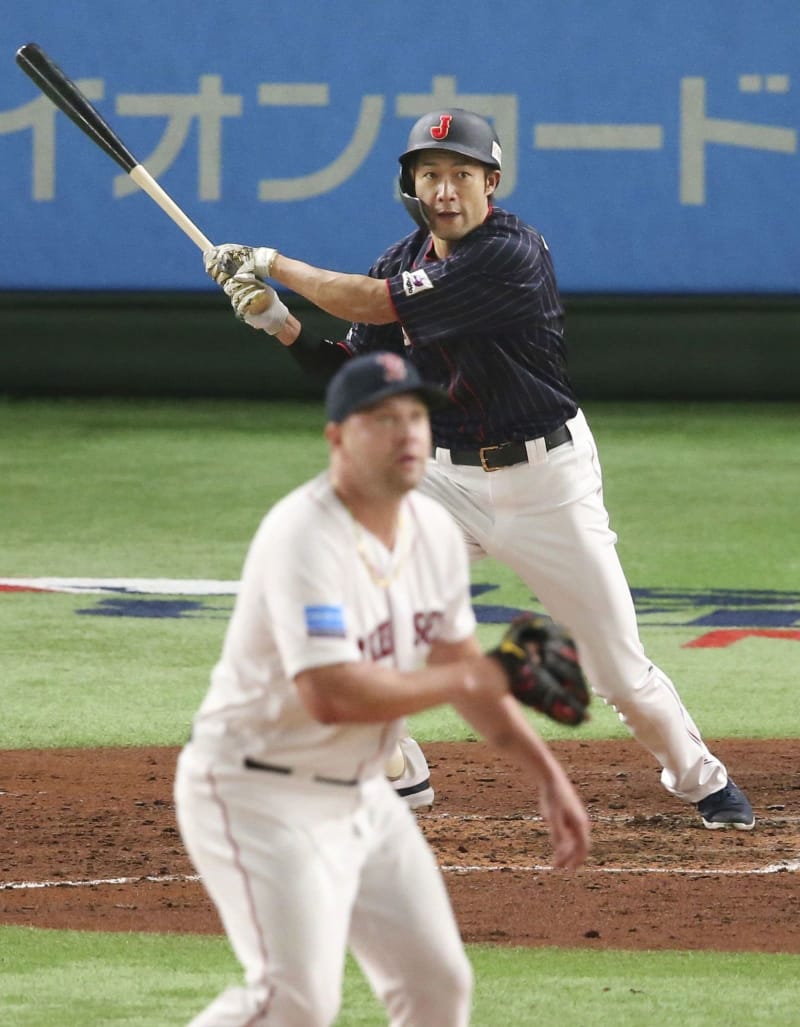 Boosted by four RBIs from Game 1 hero Yuki Yanagita and a solid start from pitcher Naoyuki Uwasawa, Samurai Japan beat the MLB All-Stars 12-6 in Game 2 on Saturday.
Yanagita homered and had three singles, while Uwasawa held the big leaguers to a run over five innings at Tokyo Dome as Japan's national team took a 2-0 lead in the six-game series.
Japan's offense began where it left off the night before, with Yanagita driving in the go-ahead run. A night after his two-out, ninth-inning sayonara home run won Game 1, Yanagita singled home Sosuke Genda from second with two outs in the first inning.
Seattle Mariners right-hander Erasmo Ramirez started for MLB, and surrendered a one-out, opposite field double to Genda before Yanagita singled past third on the first pitch he saw.
"I wanted to go up there ready to swing since it was our first chance to score," Yanagita said. "I got a little lucky where the ball went to left, but the credit goes to Genda for creating a good opportunity."
The All-Stars threatened against Uwasawa in the bottom of the first on back-to-back, no-out singles. But the Nippon Ham Fighters right-hander, whose 3.16 ERA was third-best this year in the Pacific League, regrouped. He fell behind No. 3 hitter Carlos Santana 2-0 before striking him out on eight pitches and getting an inning-ending double play.
The 24-year-old Uwasawa struck out the side in the bottom of the second and Samurai Japan came back for four more in the third, capped by Yanagita's two-run home run.
Ramirez, a 28-year-old who is 32-39 with a 4.36 ERA, walked Kazuki Tanaka to open the third. A strong candidate for the PL's rookie of the year honors, Tanaka stole second and scored on Shogo Akiyama's triple to center. Genda singled to first baseman Santana, when Ramirez failed to cover first, and scored when Yanagita once more hit Ramirez's first pitch.
Yanagita struck yet again in the fifth after Tetsuto Yamada reached on a two-base throwing error against Boston Red Sox lefty Brian Johnson. Yanagita singled home Yamada and went to third when struggling cleanup hitter Hotaka Yamakawa's fly ball fell in for a double.
With one out, MLB manager Don Mattingly set up a double play situation with an intentional walk, but No. 8 hitter Tsubasa Aizawa singled in Yanagita. With two outs, Akiyama singled in two more to complete the four-run inning and make it a 9-0 game.
Juan Soto of the Washington Nationals homered for the second straight game to open the fifth. But before the All-Stars could get a foothold in the inning, a web gem by Yamada at second robbed J.T. Realmuto of a no-out single. Uwasawa finished his night having allowed four hits and a hit batsman, while striking out seven.
Japan chased Johnson in the seventh after the lefty walked the bases loaded with two outs. Yamada singled in two, and slugging left-handed hitting catcher Tomoya Mori singled in the third as a pinch hitter for Yanagita.
The big leaguers scored two unearned runs against DeNA BayStars pitcher Haruhiro Hamaguchi in the seventh, although it was the lefty's one-out throwing error that opened the door. With runners on second and third after a Realmuto double, a run scored on a groundout as shortstop Genda robbed Enrique Hernandez of a single. But Kevin Pillar's single brought in Realmuto.
The introduction of rifle-armed catcher and Japan Series MVP Takuya Kai on defense in the bottom of the eighth sent a charge through the Tokyo Dome crowd, but the MLB starting catcher, Realmuto, took the inning's honors. The Miami Marlins backstop blasted a three-run homer off Chunichi Dragons reliever Yu Sato to cut Japan's lead to 12-6.
Rakuten Eagles lefty Yuki Matsui worked the ninth to close out the victory.
Game 3 will be at Tokyo Dome on Sunday night before the series goes on the road to Hiroshima on Tuesday and Nagoya for the final two games on Wednesday and Thursday.