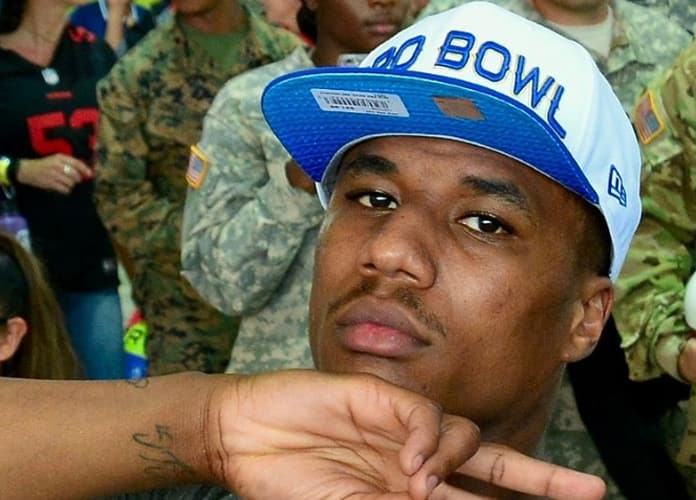 "Tell Sean Payton to keep talking that s—, we gonna see him soon," said Los Angeles Rams cornerback Marcus Peters in a post-practice interview Thursday of the New Orleans Saints head coach's recent remarks.
Rams' Marcus Peters claps back at sean payton
The New Orleans Saints (7-1) gave the undefeated Los Angeles Rams (8-1) their first loss of the season last Sunday, winning 45-35.
After practice on Thursday, Peters shared his own thoughts about Sunday's loss.
During the game, Saints quarterback Drew Brees threw a 72-yard touchdown pass to receiver Michael Thomas that helped seal the Saints' win.
Payon took to the podium after the game to address the media.
"That was the plan," Payton said when asked about the 72-yard touchdown by Thomas. "They were going to travel Marcus to him, and that was fine by us, you know, we thought we really liked that matchup — a lot."
Peter was assigned to Thomas during the play, so naturally, he was asked about the play and Payton's post game comment.
30 SPORTS FIGURES WHO DIED IN 2018 – TRIBUTE SLIDESHOW
"Tell Sean Payton to keep talking that s—. We going to see him soon, you feel me?" Peters said. "Because I like what he was saying on the sidelines too. So tell him to keep talking that s—. I hope he see me soon, you feel me? Then we going to have a good lil, nice lil bowl of gumbo together."
Although Peters chose to focus on Payton's mentioning of the matchup, Payton went on to say, "It's not so much the matchup, it's where the other safety's tilted or leaning."
Thomas had a career day against the Rams. He caught 12 of 15 passes and set a new franchise record for most receiving yards in a single game with 211.
The Saints lost to the Rams in the preseason 28-0, and won't see each other again until next year.
L.A. will host the Seatle Seahawks (4-4) Sunday at L.A. Memorial Coliseum. This game will air on CBS at 1:00 p.m. EST.
The Saints will head to Ohio Sunday to take on the Cincinnati  Bengals (5-3). This game will air on Fox at 1:00 p.m. EST.