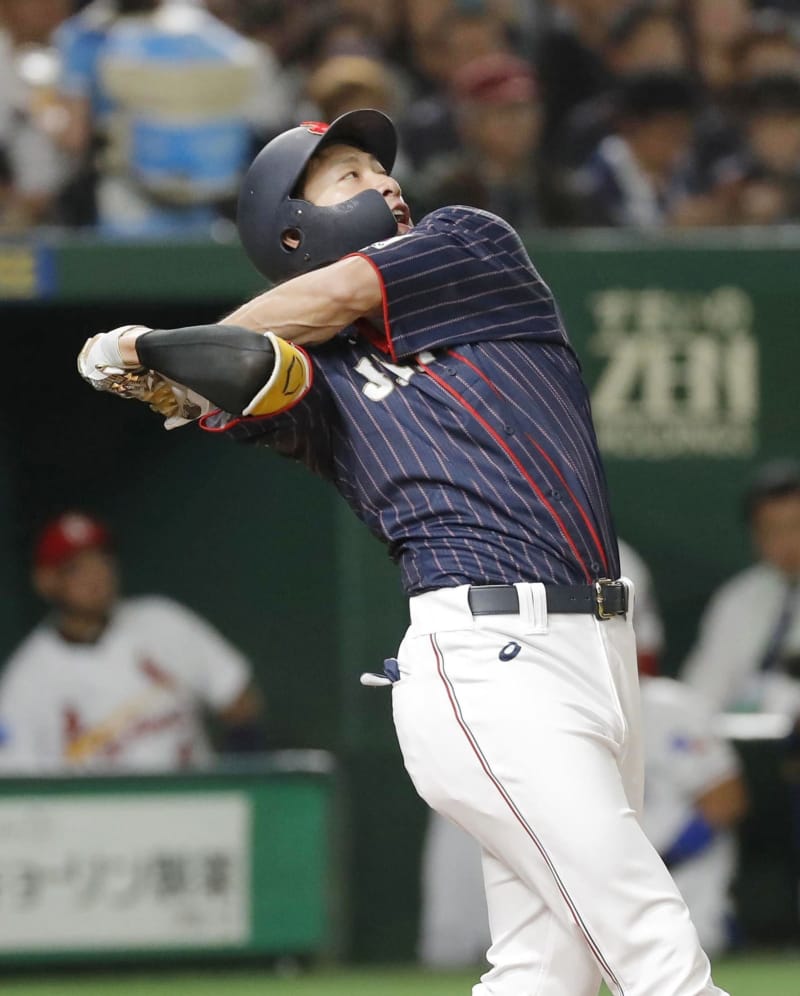 Three of Japan's marquee players, Yuki Yanagita, Shogo Akiyama and Tetsuto Yamada, put on a show Saturday in Samurai Japan's 12-6 win over the MLB All-Stars.
Four years after being named MVP of the 2014 series between Samurai Japan and the major leaguers, Yanagita is doubling down. After hitting a walk-off, two-run homer in Friday's Game 1 of this year's series, Yanagita, a 30-year-old SoftBank Hawks outfielder, put in an encore performance in Game 2, going 4-for-4 with three singles, a homer and four RBIs.
"A portion of what's going on is just random chance," Yanagita said afterward. "I want to put this behind me and move on."
Considered by several big league scouts to be the best player in Nippon Professional Baseball, Yanagita earned the usual praise from the MLB coaches, including former Seattle Mariners hit machine Edgar Martinez, one of the game's most polished batsmen.
"He could play in the majors," Martinez said. "He hits everything, he hits with power and with power to the opposite field."
Akiyama, a stronger candidate for Pacific League MVP only because his Seibu Lions won the pennant, drove in three runs and scored once with two singles, a walk and a triple.
"This is a golden opportunity for me, for all of us," said Akiyama. "It's different hitting against foreign pitchers, they seem to have very efficient mechanics. Compared to a Japanese pitcher who is really exerting himself throwing 147 kilometers (91 miles) per hour, these guys throw much easier."
"I want to pick up as much as I can here as I try to adjust to pitches I'm not used to seeing, learn so I can make new adjustments moving forward.
Yamada, the 26-year-old second baseman of the Central League's Yakult Swallows is the only player in Japan to rival Yanagita in terms of all-round ability. The two are the most recent members of Japan's "Triple Three" club -- batters with 30 or more stolen bases and home runs in a season when batting .300 or better.
Yamada, who scored a run, singled in two and made one of the best defensive plays of the game, is the only player to do it more than once in NPB. He accomplished the feat for the third time this season, hitting .315 with 34 homers and 33 steals in Tokyo's hitter-friendly Jingu Stadium.
He said that playing defense, as opposed to being the designated hitter as he had been the year before, made hitting easier, but he denied feeling any need to compete defensively with Japan teammate Ryosuke Kikuchi, a six-time CL Golden Glove winner at second.
"I'm not (trying to compete with him, I'm just playing my game," he told Kyodo News. "Of course, playing defense helps me (at bat) because that's what I'm used to."
The CL's 2015 MVP, Yamada saw his offense took a huge hit in the summer of 2016, when he was hit in the back with a pitch. On track for a career year, his offense plummeted, although he still managed to make the Triple Three -- based mostly on his first-half results.
For a year and a half, Yamada struggled more against inside pitches and hit a career low .247 with 24 home runs and 14 steals, but has bounced back this season.
"There were issues I had to learn to deal with after that (getting hit by the pitch)," he said, suggesting he tried to play when he wasn't fully fit. "In the end, I had to become stronger mentally, and I think I have."
In addition to the rare chance of getting to compete against major leaguers, Akiyama said sharing information with the cream of Japan's crop is a huge plus.
"First of all, it's motivating to be competing alongside these good players," he said.
"We can really talk about what we see and break it down. I mean, I talk to Yanagita all the time during the season, but we play for different teams so we're never on the bench together talking at the same time. Here we can sit and discuss what pitchers are trying to do. That's an education."