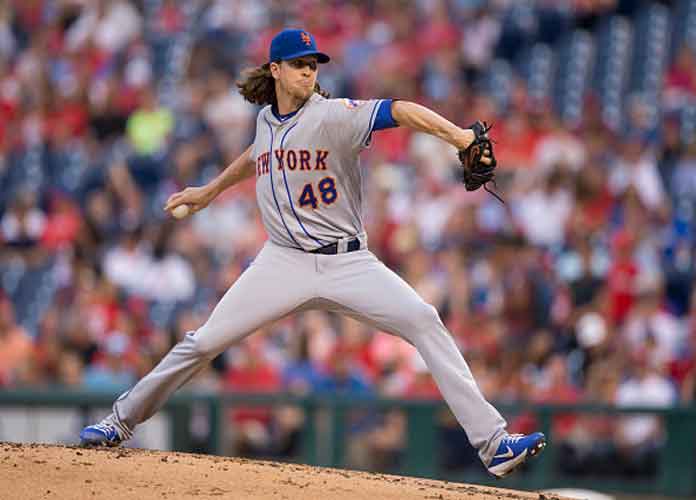 A dismal 2018 season with minimal positivity and a sense of a bleak future for the New York Mets reaped one glimmer of hope in the form of a Cy Young award winner, right-hander Jacob DeGrom. 
Jacob DeGrom comments on new Mets GM
Boasting the lowest ERA of the majors, (1.70) and the lowest win total for any Cy Young winner ever, (10) DeGrom was a fantastic one-man-army in 2018. DeGrom received an overwhelming 29 first-place votes by the Baseball Writers' Association of America.
DeGrom represents a seismic shift in the way writers, fans, and the game of baseball altogether are consumed and analyzed, as the previous Cy Young winner with the lowest win count was Felix Hernandez, who had only 13 in 2010. Advanced metrics are now a crucial force in determining skill and value, although DeGrom's almost unbelievable ERA of 1.70, which was two-thirds of a run lower than the runner-up of ERA in Aaron Nola of the Phillies, (2.37), speaks enough for itself. DeGrom's ERA was also the second best by any starter this century.
DeGrom's excellence, like several other Major Leaguers, wasn't demonstrated by just old-school numbers like wins and losses, but in metrics that demonstrate a dominance in individual efforts. He finished second in the National League in innings (217), strikeouts (269) and WHIP (0.91), and allowed just ten home runs, four fewer than any other starter. DeGrom also had a streak of 29 consecutive starts with three earned runs or less, which began in April and hasn't been broken since. That continuing streak is the longest in MLB history.
30 SPORTS FIGURES WHO DIED IN 2018 – TRIBUTE SLIDESHOW
The Mets, floundering to below irrelevancy in the lousy NL East, supported DeGrom with an average of only  3.5 runs per game. Four times DeGrom didn't allow a run and held a no-decision, while he also allowed only one run in ten starts, and went just 4-2 in those games. He allowed two runs only five times and had a losing record in those games (2-3). The numbers scream incompetence for the Mets and a legendary status for DeGrom.
DeGrom now joins the ranks of several other Mets greats, cementing himself as an icon in the modern iteration of the storied franchise. "I want to thank the baseball writers for this honor," deGrom said. "I'm extremely humbled to win this award along with some other great former Mets such as Tom Seaver, Dwight Gooden and R.A. Dickey. I'd especially like to thank my teammates, coaching staff and my family."
In 2018, in the science of baseball, numbers can never lie.