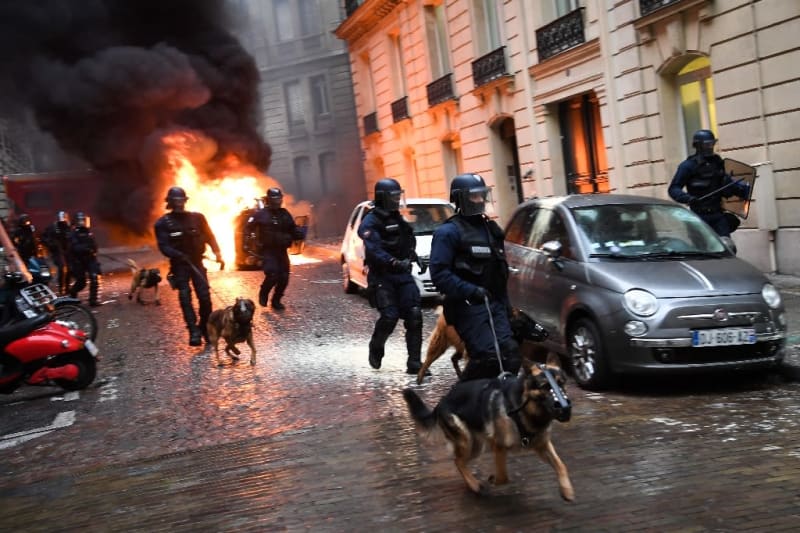 Paris (AFP) - Back they came to Paris, despite appeals by authorities for moderate members of the "yellow vest" anti-government rebellion to stay home on Saturday, to avoid giving cover to hooligans.
In by now familiar scenes, the provincial poor and struggling middle classes poured into the capital for a fourth round of protests over taxes and inequality.
As the slogan scrawled on one yellow vest summed it up: "No-surrender, change-resistant Gauls, Act IV".
The slogan was a dig at a remark by President Emmanuel Macron during a visit to Denmark this summer where he praised the Danes' "flexisecurity' labour model, contrasting it with the "Gauls who are resistant to change".
But change is exactly what the protesters who piled onto the Champs-Elysees boulevard are demanding.
They want a change of government policies which they see as favouring the rich, a change in a government seen as too technocratic, and for some, a change at the very top.
"Macron, resign!" chanted the demonstrators, who also bellowed slogans comparing riot police to the Nazi SS and periodically erupted into renditions of the Marseillaise national anthem.
A giant French flag unfurled by a group of demonstrators summarised their aims.
"1789, 1968, 2018," read three stars on the flag, putting the rebellion in the same vein as the French Revolution and May 1968 student uprising.
Xavier, a 30-year-old construction worker from the eastern Moselle region wearing a red Santa hat, was one of the many protesters who decamped from the countryside to Paris on Saturday for the first time since the revolt began.
"People are increasingly fed up," he said, watching from a safe distance as police battled a small group of demonstrators on a street leading off the Champs-Elysees.
Citing what he saw as the extravagance of the president who ordered a new set of china for the Elysee Palace for a reported 500,000 euros ($569,000) and a new carpet worth a reported 300,000 euros, Xavier said: "We get our tableware from Emmaus (a charity)! They too be should making an effort."
But at the first sign of rioters smashing windows he intended to beat a retreat. "I have two kids to think of," he said.
The government had appealed to "reasonable" protesters to stay away Saturday, issuing dark warnings that extremist elements were preparing to "smash things and kill".
The protesters arrived into a city on lockdown, with shops boarded up, tourist attractions closed, and many residents choosing to remain indoors for fears of a repeat of the previous week's violence.
Late in the afternoon youths began setting fire to barricades and even a few cars. 
Throughout the day, police responded to stones and bottles being thrown with stun grenades and copious amounts of tear gas.
Yet the vast majority of the demonstrators were peaceful.
Gas clouds
Tim Viteau hitched a lift from the eastern city of Lyon for his third Parisian demonstration in as many weeks. 
At 29, the unemployed waiter and his girlfriend are both planning to move back in with their parents because they cannot meet the rent, he said.
"It's as if we're 16 years old," said the self-described "patriot", who had a French flag peeping out of his backpack.
Striking up conversation with a couple of fellow twenty-somethings, he asked them: "How do you manage to have children? I also want to have children but I cannot plan beyond the next four months."
Many protesters complained about what they saw as excessive use of force by the police.
Three protesters met by AFP bore injuries from rubber bullets fired by police during previous protests.
"It would be nice if we could demonstrate peacefully without being systematically hemmed in and teargassed," said Sebastien, a 36-year-old trucker from the Paris suburbs.
Pointing to the noxious gas clouds, one of the demonstrators remarked sarcastically: "So this is Macron's ecological transition?"