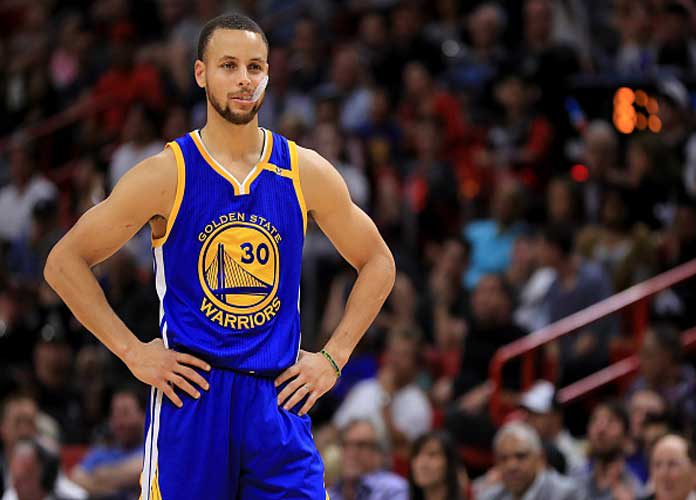 Former NBA MVP Steph Curry sat down this week with his Golden State Warriors teammate Andre Iguodala on Kent Bazemore and Vince Carter's NBA podcast, "Winging It." After a conversation about questions high people ask and how films can portray the sounds dinosaurs make, Curry blurted out a strange question.
Steph Curry Questions Moon Landing
"We ever been to the moon?" he asked. A series of "no's" came back.
"They're going to come get us," Curry added. "Sorry, I don't want to start any conspiracies."
Annie Finberg, one of the Atlanta Hawks' digital media curators, asked, "You don't think so?"
"I don't think so," Curry said. Finberg was then told to research Stanley Kubrick, the film director who some conspiracy theorists believe helped fake the footage of the first manned moon landing in 1969.
Curry has kept a relatively even-keeled public persona, making this move seem out of character for him. This isn't the first time an NBA star has tried to deny science. Boston Celtics point guard Kyrie Irving claimed that the earth was flat earlier this year.
In October, he'd wind up apologizing for the statement, saying, "To all the science teachers, everybody coming up to me like, `You know I've got to reteach my whole curriculum?' I'm sorry. I apologize. I apologize."
30 SPORTS FIGURES WHO DIED IN 2018 – TRIBUTE SLIDESHOW
Curry has yet to issue an apology but NASA has sent an invite his way to prove the US put a dozen astronauts on the moon froom 1969 to 1972.
"We'd love for Mr. Curry to tour the lunar lab at our Johnson Space Center in Houston, perhaps the next time the Warriors are in town to play the Rockets," Allard Beutel, a NASA spokesman, said in a statement to NBC News.
NASA does acknowledge that conspiracy theorists exist but often easily counters them. They point to high-resolution images taken by the Lunar Reconnaissance Orbiter that show objects and even footprints left behind by the astronauts.