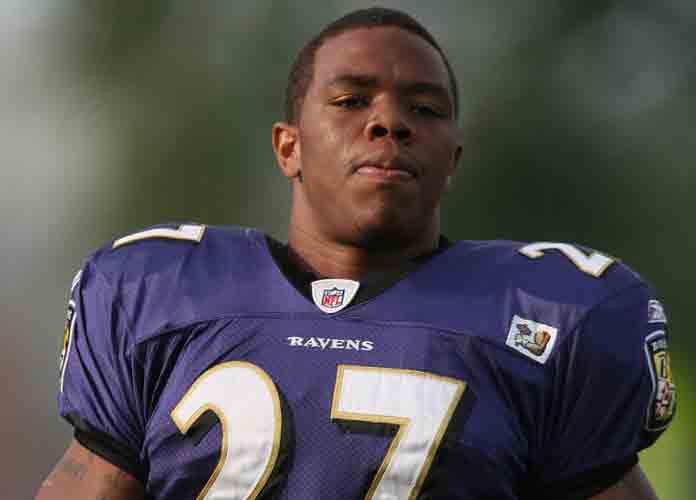 Former Baltimore Ravens running back Ray Rice is speaking out against domestic violence. He also added that the move was not in an attempt to restart a long-dead NFL career.
Ray Rice Comments On Kareem Hunt Case
In an interview with CBS This Morning on Tuesday, Rice said, "I'll be the first one to say it: I don't have to retire to tell you I'm done with football. The pressure I was under of being a star, that was the person I hated the most."
His wife, Janay, was also present. Following an assault in which Rice punched, kicked, and then dragged her unconscious body out of an elevator, he was suspended  in 2014 and then released, ending his NFL career. The two are still together and have had two children since then. "During my darkest moments," Rice said, "I used to ask myself, 'How could (Janay) even be — want to support me? …That's understandable. But I think what's misunderstood about us is that the friends we were before the incident. That's why, when I look at Kareem Hunt, I want to know what his life was like. I want to know what happened in life. I know Kareem has apologized."
To this day, Janay has not seen the video of the event. She also adds that it was the only time Ray ever abused her. "I was there. I lived it," she said. "I don't really need to relive it over and over again just to appease the world." She added, "And I'm not here to force people to understand," she said. "This is somebody I've known since I was 15 years old. I knew that we had work to do, and I was willing to move forward and put in the work."
Rice says that football for him was an unhealthy coping mechanism. "One of the underlying issues for me was I never wanted to ask for help," the running back said. "Football, for me, was my counseling. It was my therapy. It was my psychologist. It was everything."
Rice talked about Kareem Hunt's release from the Kansas City Chiefs on Nov. 30 following a video of him beating a woman was leaked. "Well, obviously, you know, you look back and you see the similarities," Rice said in the interview.
Twitter got all over this. One user wrote, "Y'all done blew the dust off Ray Rice so he can tell us about how that "One-Pop Judo Chop" ruined his life…smh"
Another said, "Ray Rice. That's real growth."
Another said, "Just woke up to the headline "in 2014 ray rice was seen knocking out his fiancé, now 4 years later the married couple reveal how they moved forward" LMFAO WHAT"