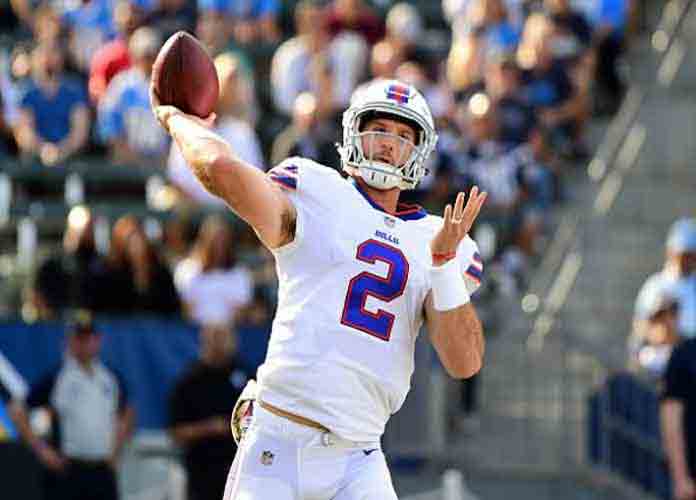 The Oakland Raiders signed former Buffalo Bills quarterback Nathan Peterman to a practice squad deal on Wednesday, and one particular group of NFL fans is outraged: Colin Kaepernick supporters.
Kaep Fans Share twitter Jokes About Raiders Signing Peterman
The Bills cut 24-year-old Peterman last month after the former 2017 fifth-round pick out of Pittsburgh tossed 12 interceptions in eight games throughout two seasons for the team.
As part of his new deal with Oakland, Peterman will now likely be in the Raiders' workout program for the entire off-season. Oakland's starting QB AJ McCarron and his wife had a baby on Wednesday, so he may not be able to start in Monday night's home game on Christmas Eve against the Denver Broncos. The Raiders (3-11) are tied with Arizona for the worst record in the league.
Given the QB's poor performance in his first two years in the NFL, Kaepernick fans quickly took to Twitter to express their anger at the 31-year-old free agent and former San Francisco 49ers star still being blackballed from the league for his national anthem protests despite his superior record relative to other signal-callers.
30 SPORTS FIGURES WHO DIED IN 2018 – TRIBUTE SLIDESHOW
Kaepernick has filed a grievance against the NFL, claiming all 32 team owners colluded to keep him out of the league. Clearly, Kaepernick fans are not afraid to make a case — and a solid one, at that — as to why their guy should be signed to a team, even if it is one of the worst in the NFL. We'll have to wait to see if Peterman will impress at practices and step up his performance in the coming seasons.