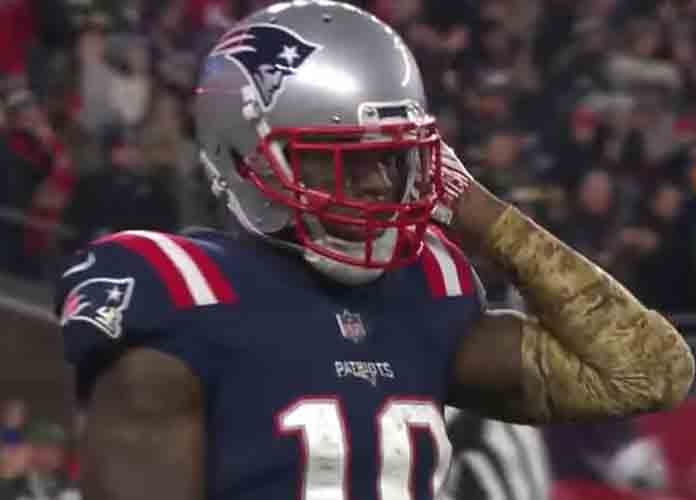 Josh Gordon was suspended from the NFL indefinitely on Thursday for violating the terms of his conditional reinstatement for drug violations, although it looks like the New England Patriots wideout will use his time off for something positive.
Josh Gordon To Focus on Mental health
Gordon, 27, will reportedly step away from football to focus on his mental health.
"I take my mental health very seriously at this point to ensure I remain able to perform at the highest level," Gordon wrote on Twitter Thursday morning, before thanking Patriots coach Bill Belichick and owner Robert Kraft. "I have recently felt like I could have a better grasp on things mentally. With that said, I will be stepping away from the football field for a bit to focus on my mental health. I would like to thank Coach Belichick, Mr. Kraft, as well as countless others within the Patriots organization for their continued support. I want to thank my fans for their support as well as I continue down the path getting back to 100%."
In their own statement, the Patriots said they support Gordon and his "efforts to focus on his health."
30 SPORTS FIGURES WHO DIED IN 2018 – TRIBUTE SLIDESHOW
This is not the first time Gordon has decided to take a break from football to treat his mental health. The receiver also did this in July when he was training camp with the Cleveland Browns. Gordon was traded by Cleveland to New England on Sept. 17 alongside a seventh-round 2019 draft pick in exchange for a fifth-round 2019 pick.
The NFL had suspended Gordon for much of the last four seasons due to several drug offenses. The league's collective bargaining agreement states the wideout could be banned for any type of positive test result, although he would still be allowed to apply for reinstatement.
In the Pats' 17-10 loss to Pittsburgh on Sunday, Gordon finished with just one reception for 19 yards and was targeted only twice by Tom Brady. Through 11 games with New England, Gordon — whom Rob Gronkowksi reportedly called "reliable" — has compiled 40 catches for 720 yards and three touchdowns.
It's good that Gordon is actually taking the first step to fixing his mental health and drug issues. Hopefully, other NFL stars in similar situations will follow his lead.