Chopsticks NY republishes articles from att.JAPAN, a multilingual travel magazine for foreign visitors to Japan. This month, we introduce Yamaguchi Prefecture, located on the westernmost edge of Honshu (main island). West of Hiroshima Prefecture, which attracts many foreign visitors, Yamaguchi is not yet well-known to many; however, it offers plenty to see and experience from beaches (it is surrounded by the sea on three of its sides) to mountains (and their abundant bounty) to onsen hot springs. Here are 7 things you should do while in Yamaguchi.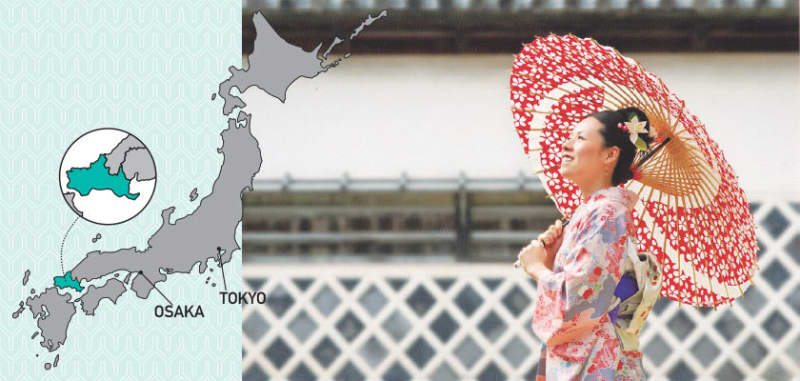 1 Strolling in Kimono
Kimono Week in Hagi Premium (Hagi City)
In Hagi, a castle town that has retained Edo Period (1603-1867)  atmosphere, you will have the opportunity to rent a kimono, wear it and walk around town during Kimono Week from October 1-14, 2019 (The schedule is subject to change). Along your way, volunteer photographers will take your picture amid the scenery of a castle town, free of charge.
Yamaguchi City "Saikotei" Kimono ExperienceYamaguchi City's tourist center, "Yamaguchishi Saikotei," also offers a kimono rental service (reservations are required). Wearing a kimono (or samurai clothes are also available), you can walk around and take pictures at historical spots near the Ichinosaka River. We recommend the five-storied pagoda (National Treasure) of Ruriko-ji Temple. Its grounds are perfect for experiencing each season's particular flavor and charm.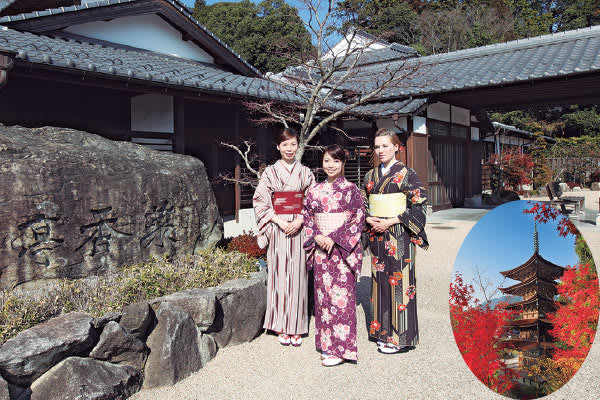 2 Handmade Souvenirs
Ouchi-nuri LacquerwareChopsticks Experience (Yamaguchi City)
The technique for creating lacquerware objects called urushi-nuri is one of Japan's traditional crafts, and among them Yamaguchi's "Ouchi-nuri" stands out. Try your hand at creating a pair of chopsticks that  you can take with you at Yamaguchi Furusato Heritage Center. And don't forget to check out the "Ouchi-ningyo" dolls, much beloved symbols of a happy marriage. (For the Ouchi-nuri workshop/experience, reservations are required.)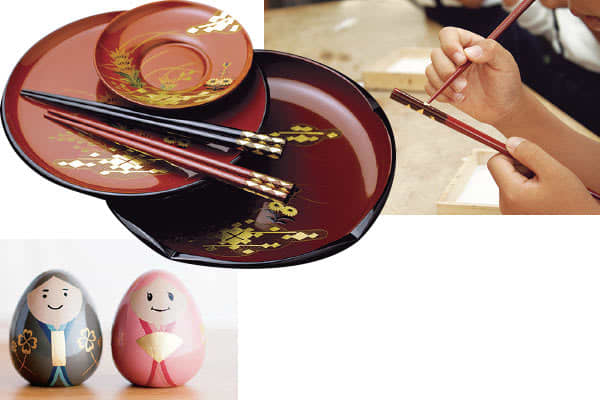 Make Your Own Goldfish Chochin Paper Lantern (Yanai City)
The unique goldfish-shaped chochin (paper lantern) is a trademark of the city of Yanai and one of its traditional crafts. You will see them swaying gently against the white walls of old storehouses built during the Edo Period.
You can make your own original chochin at "Yanai Nishigura."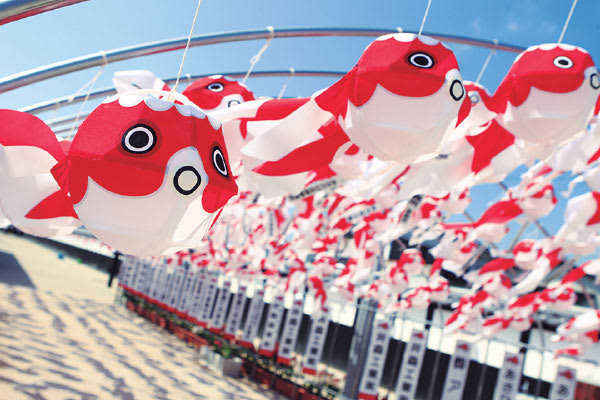 3 Take Pictures at Great Spots
Motonosumi Inari-jinja Shrine (Nagato City)
The 123 bright red torii gates meandering up the steep seaside rock create a breathtaking view. CNN included this in its list of "Japan's 31 Most Beautiful Places". Also worth mentioning is the offertory box at the top of the tall torii of  five-meters high, considered to be the hardest in Japan to throw money into – perhaps because it will grant your wish if you actually succeed in your toss?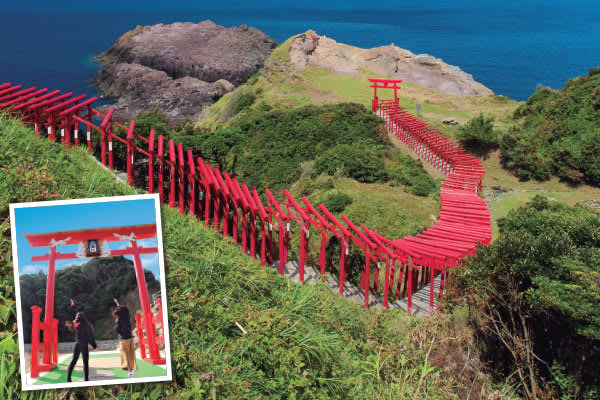 Tsunoshima-ohashi Great Bridge (Shimonoseki City)
Connecting Honshu and Tsunoshima Island, this 1,780-meter bridge is quite photogenic! Frequently appearing in commercial ads, films, and TV programs, it can be crossed either by car or by bus from JR Kottoi Station. There are limited bus services taking on this route, so be sure to check the time schedule in advance.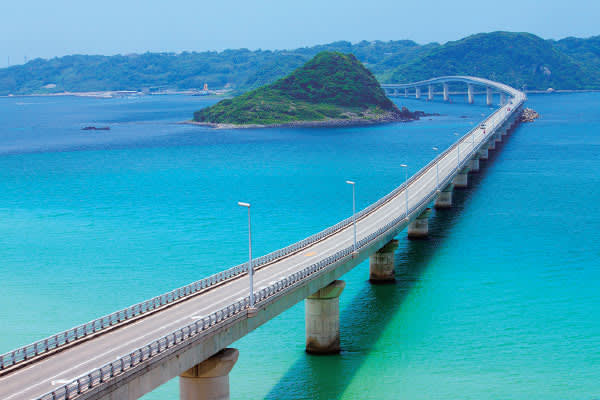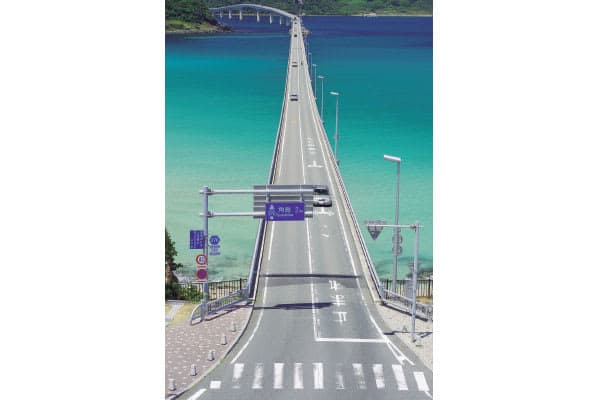 4 Experience the Mysteries of Nature
Akiyoshidai Plateau Area (Mine City)
This is Japan's biggest karst, a landscape formed from the dissolution of limestone. Somewhere in the depths of time, this was a coral reef, but the changes to the earth's crust made it rise to 200-400 meters. In this grass-covered plateau, countless limestone stand one next to the other, creating awe-inspiring shapes. Furthermore, 100 meters beneath the plateau, there is the huge Akiyoshido cavern, created from the same limestone.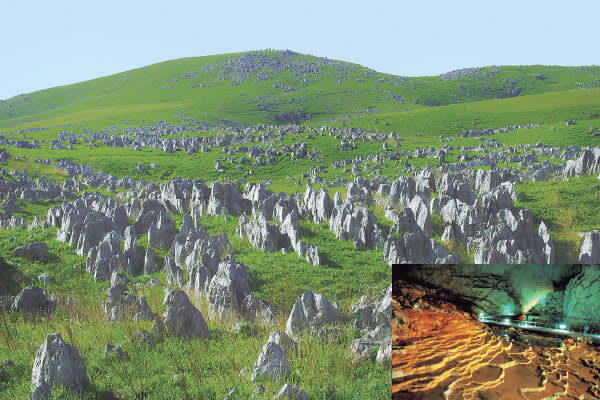 5 Try Unique Local Dishes
Kawara-soba (Enjoyed throughout the prefecture, especially in Shimonoseki City)
This noodle dish is unique in the way it is served on a kawara (a tile used on roofs). It is believed that the style originated from the samurai custom of cooking meals on kawara in the battlefield. The modern version is made with green tea noodles, slightly sautéed and topped with thinly sliced omelet, sweet and savory grilled beef, and other ingredients. People enjoy the green tea noodles served on warmed kawara by dipping them into warm sauce.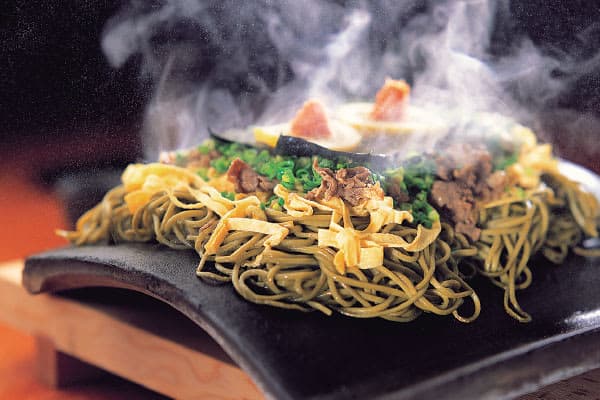 Mandarin Oranges Hot Pot (Suo-Oshima Island)
The Inland Sea's Suo-Oshima is famous for its mikan mandarin oranges. Locals use them in a rather unique way: in a hot pot with fish! The fruit takes away the fishy smell and embraces umami from all the ingredients. Since the mikan are used unpeeled, the dish's nutritional value is also enhanced.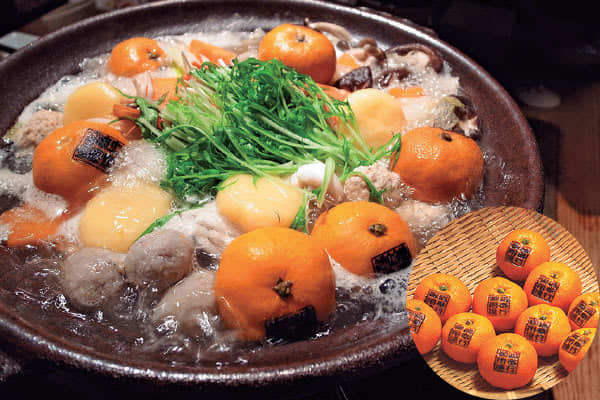 Yamaguchi Local SakeSake brewing is one of Yamaguchi Prefecture's prospering businesses. "Dassai" is its most famous brand, but each area has its own, and if you are looking for something that complements perfectly the region's cuisine, you should definitely give the local sakes a try!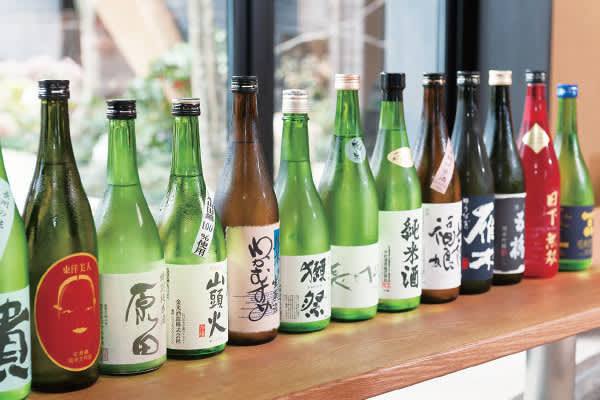 6 Walk Undersea to Kyushu
Kanmon Pedestrian Tunnel (Shimonoseki City)
Honshu's westernmost spot, Shimonoseki, and Kyushu's northernmost spot, Kitakyushu, are separated by a rather narrow stretch of water called Kanmon Straits. And underneath it, connecting the two prefectures is the Kanmon Tunnel, through which trains, road traffic and, in what is a rarity in the world, foot traffic also passes. If you are looking for a unique experience, you can walk from one side of the underwater tunnel to the other. Shimonoseki is rich in fish and seafood with most prominent being fugu, or blowfish. Karato Fish Market facing the Kanmon Straits is open to travelers and allows them to see from up close the treasures of these seas on your plate as in sushi, kaisen-don (seafood donburi bowl), etc. Our recommendation is to have a hearty lunch at the market and then walk it off by going to Kyushu!
7 Trace the Footsteps of Historical Figures
Shoka Sonjuku Private Academy (Hagi City)
Choshu-han, the domain in Edo Period and the current Yamaguchi Prefecture, has played an important role in the history of Japan's modernization. Many of the prominent figures who contributed to the modernization were from the domain. Visitors can enjoy historical landmarks in the castle town, Hagi. The most famous historical destination is the Shoka Sonjuku private academy where intellectual, Yoshida Shoin taught persons who would become politicians, leaders of industry and other key figures who devoted themselves to the creation of modern Japan   in the Meiji Period (1868-1912). The academy is one of Hagi's five sites that have been included in UNESCO's World Heritage lists as "Sites of Japan's Meiji Industrial Revolution."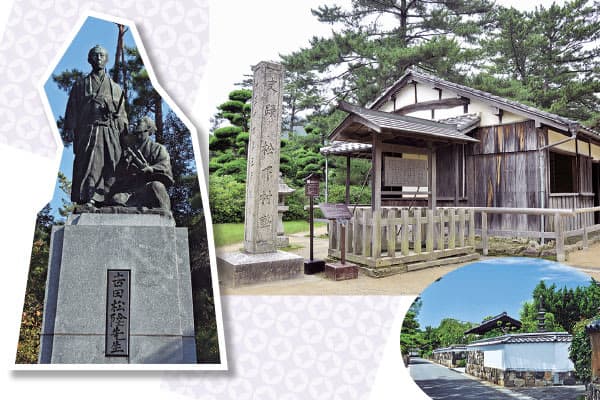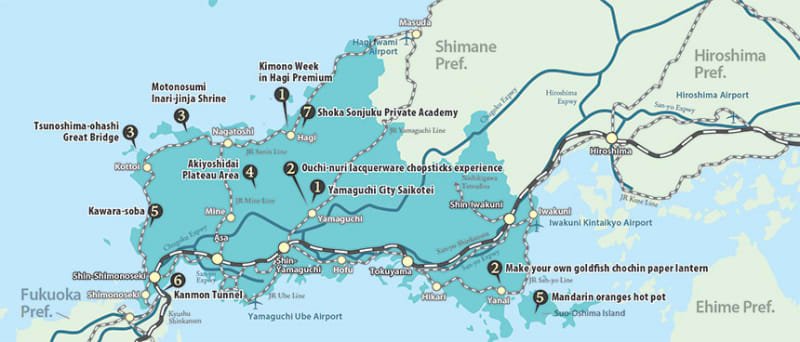 ---
**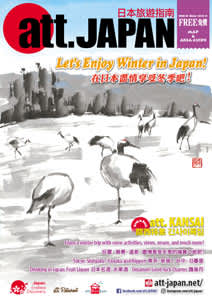 About att.JAPAN**
The magazine att.JAPAN is for non-Japanese visiting from overseas and those residing in Japan. This quarterly magazine written in English, Mandarin, and Korean offers a wide range of information about Japan––from travel and sightseeing to various aspects of traditional culture and the latest trends. The magazine is distributed at major airports, hotels, and tourist information centers throughout Japan.
http://att-japan.net/en/
Facebook: att.JAPAN instagram: att.japan
www.youtube.com/user/attJAPAN
---
This Yamaguchi story previously appeared in att.JAPAN. The information was updated on December 5th, 2018, but further changes are possible.