Chopsticks NY republishes selected articles from att.JAPAN, a multilingual travel magazine for foreign visitors to Japan. This month, we focus on areas that used to support the ancient capital. With more than 1,200 years of history, Kyoto has been attracting visitors from worldwide. However, did you know there are places that have been supporting Kyoto for a long time? They are the Wakasa area of Fukui Prefecture and the Tango area of Kyoto Prefecture, which are both located along the Sea of Japan at Wakasa Bay. Since ancient times, these places near Kyoto have been serving as an entrance to the city for not only marine products but also overseas culture.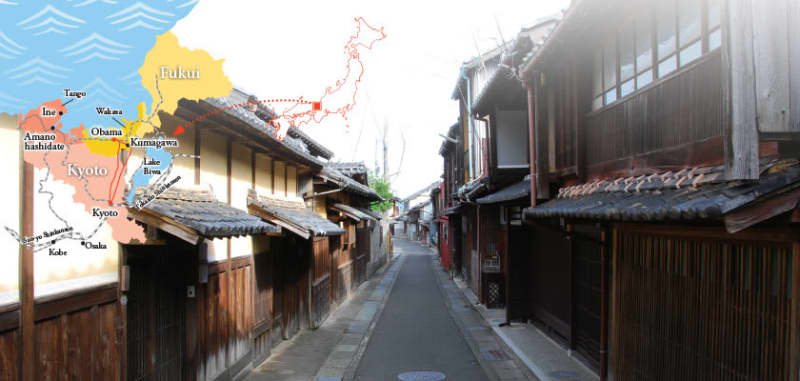 Wakasa
Food that Supports Kyoto
Wakasa Bay is now and has been an abundant source of marine products. Wakasa was one of the Mitsukekuni (regions of food), which provided high-quality food, including marine products and salt, to the Imperial Court in former times. After the 16th Century, the main food item Wakasa offered was saba (mackerel). One of Kyoto's specialties, saba-zushi (pressed sushi with mackerel), was actually created from saba from Wakasa.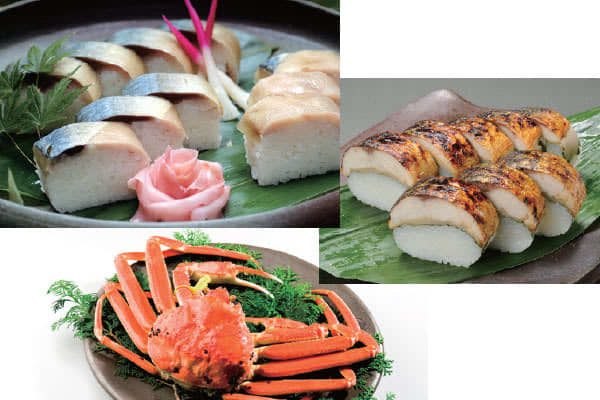 A Road Connecting the Ocean and Kyoto
The road running from Obama City in Fukui Prefecture to Kyoto is called the "Saba Kaido". There are several routes, with a total length of 72km on the shortest Harihatagoe route. Obama Nishigumi, the starting point of the Saba Kaido, and Kumagawa-juku (current Wakasa Town), one of the staging posts, preserve traditional buildings, which are still actively used. The history and the culture along the Saba Kaido have been recognized as Japan heritages.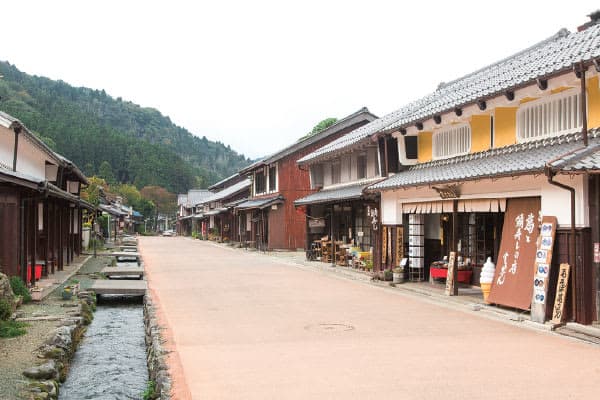 ---
Amanohashidate: a Mystic Landscape that Attracted People in Kyoto
Food that Supports Kyoto
Located along the Sea of Japan along with Wakasa, Tango is said to be a place where advanced cultures and technologies from the continent first arrived in Japan. It is also known for having various places where myths took place. The representative of mythological places in Tango is Amanohashidate. It is one of Japan's most beautiful sceneries along with Matsushima (Miyagi Prefecture) and Miyajima (Hiroshima Prefecture). It is a long shoal (sandbar) stretching about 3.6 km in total and appears in the myth as a bridge connecting the heaven and earth that deities made. The mystic landscape was adored by people in Kyoto, which is far from the ocean. Described in waka poems and taking a role in literature as well as serving as a motif for gardens, Amanohashidate has been influencing Japanese culture and the aesthetic of Japanese people.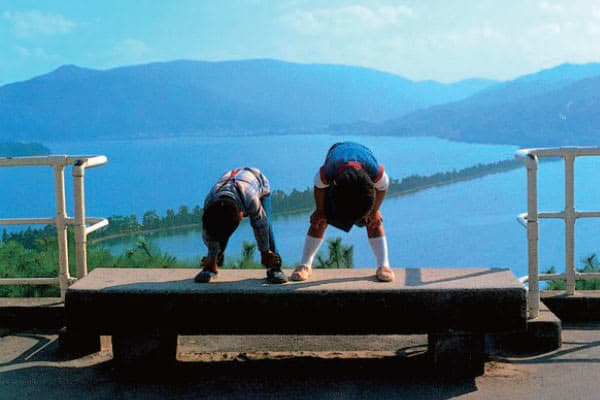 If you're planning to visit there, don't forget to look at it between your legs, upside down, from Amanohashidate View Land. It is said that if you look at Amanohashidate that way, it looks like a dragon flying in the sky. You can ride through the shoal on a rental bike.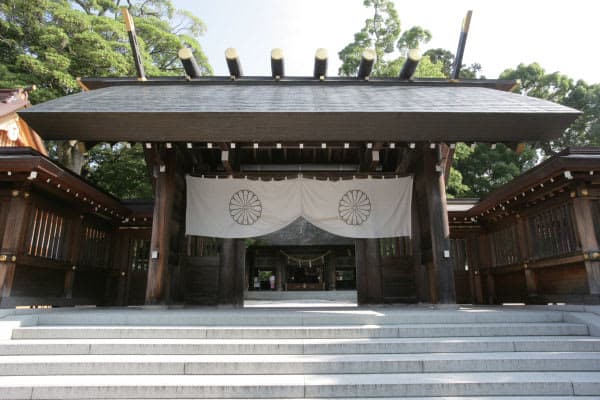 Motoise Kono Shrine
Located across from Amanohashidate Station on the opposite shore, this shrine (more commonly called Kono Shrine), with more than 2,000 years of history, is said to be used to accommodate the deities that are currently enshrined at Ise Jingu Shrine.
---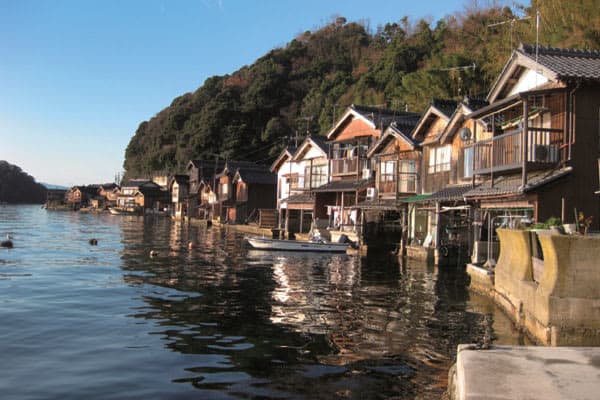 "Floating Houses" in Ine
In Ine Town, you can see a unique scene representing this area that is very closely connected to the ocean. Girdled about the 5km area in Ine Bay, funaya houses look as if they were floating on the water. Ine's funaya houses have a unique structure with a boat garage on the first floor and a living room on the second floor. This scene is peculiar to this area where people have been making a living by fishing. Some funaya houses offer accommodation for tourists. Many of them can accommodate only one group per day, offering visitors a special time to enjoy staying on the water.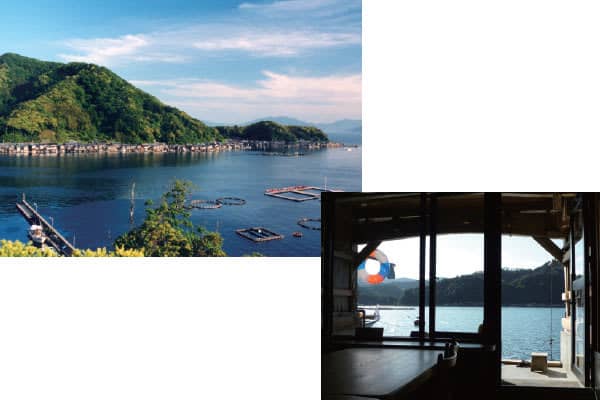 Trains are Perfect for Traveling in Tango!
If you are visiting the Tango area, take a train on Kyoto Tango Railway, which connects to other lines at JR Fukuchiyama Station and JR Nishi-Maizuru Station, and you can enjoy the views of oceans and mountains through the window in a relaxing atmosphere. There are three types of trains, including Aomatsu-go, a blue sightseeing train that requires no reservation with a regular fare only; Akamatsu-go, a red train designed by a renowned train designer, which requires a reservation and a reasonable extra fare; and Kuromatsu-go, a restaurant train that requires a reservation and serves special dishes with local produce. You can also take a limited express train, Tango-no-umi, starting from JR Kyoto Station.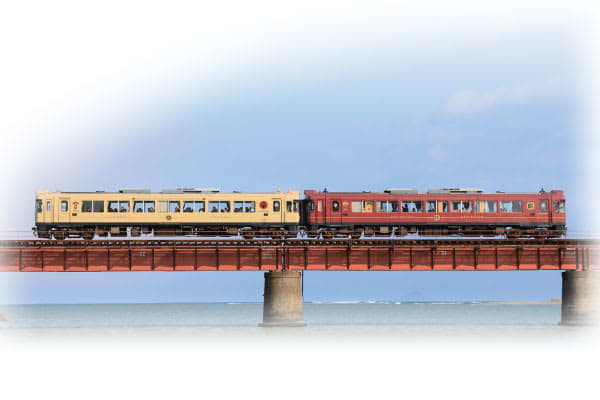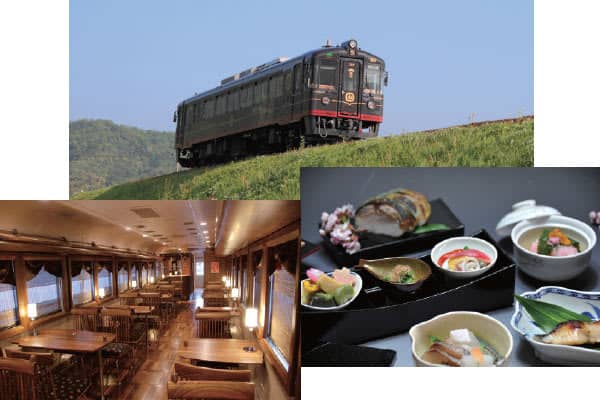 ---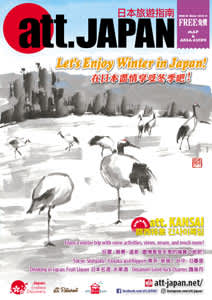 About att.JAPAN
The magazine att.JAPAN is for non-Japanese visiting from overseas and those residing in Japan. This quarterly magazine written in English, Mandarin, and Korean offers a wide range of information about Japan––from travel and sightseeing to various aspects of traditional culture and the latest trends. The magazine is distributed at major airports, hotels, and tourist information centers throughout Japan.
http://att-japan.net/en/
Facebook: att.JAPAN instagram: att.japan
www.youtube.com/user/attJAPAN
---
This "From the Ocean to Kyoto" story previously appeared in att.JAPAN. The information was updated on January 5th, 2019, but further changes are possible.