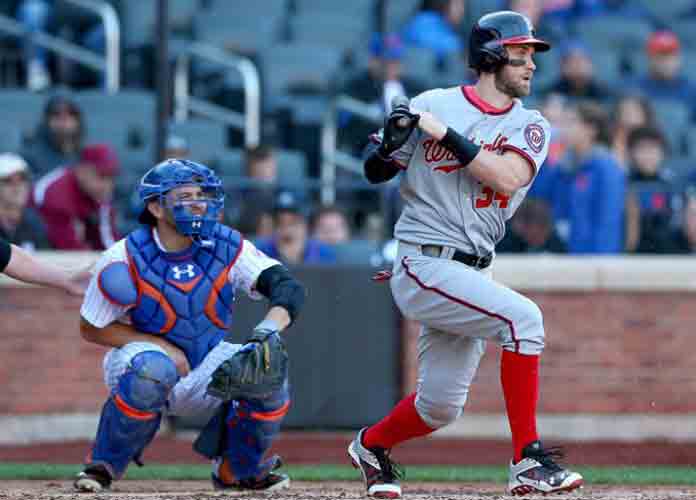 Spring training is within sight. Baseball fans everywhere are clamoring for it. The free agency market hasn't done it. Baseball is clearly losing its spot as a year-round sport to the NBA. With under two weeks left until teams head south, both Manny Machado and Bryce Harper are still unsigned.
Ex-National Harper Meets With Padres
As of Thursday, the bidding scene has grown so desperate that the San Diego Padres — almost always a joke of a franchise — secured a meeting with Harper. Now the list of teams that want a 26-year-old All-Star has risen up to four even as more and more teams drop out of the race.
San Diego having a chance at Harper doesn't really help the market. Instead, it cuts into their other moves and puts the rest of MLB's free agents into a state of purgatory, where they can't be offered contracts until Harper and Machado get an offer that they like.  But Harper is too good of a fit in San Diego for them to pass him up.
30 SPORTS FIGURES WHO DIED IN 2018 – TRIBUTE SLIDESHOW
For years, Harper was projected to be baseball's first $400 million man. Now some are questioning if he was stupid to reject a ten-year, $300 million deal from his club of seven years: the Washington Nationals. The Philadelphia Phillies, which both free agents seem to not like, and the Chicago White Sox are also in play.
The Padres normally wouldn't be a prime landing spot. A 66-96 team that's only added an injured 30-year-old pitcher and a 36-year-old second baseman doesn't look great. But it's got a stacked farm system as well as payroll flexibility. Normally, someone like Harper wouldn't be on the market in February.
Because the Padres met with Harper, it's okay to assume that there's serious interest on both sides. There's no indication on whether or not they'll lock him up long term or offer a high salary for a shorter amount of years.