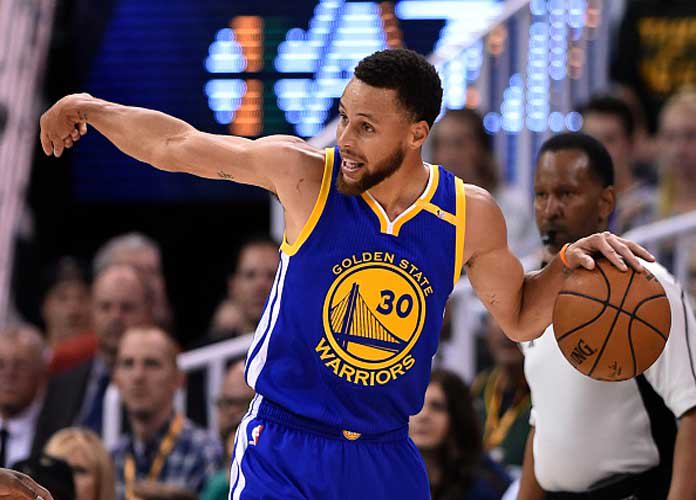 Golden State Warriors star Steph Curry might be the most important homegrown talent on the NBA's current superteam. However, he still knows Dwyane Wade was the first. He was reminded of that this weekend after his team barely pulled out a 120-118 win over Wade's Miami Heat.
Curry Dishes On D-Wade
The two met up after the game to exchange jerseys. This has been a norm for Wade, this year being his farewell tour, so players have clamored to swap with him.
"It seems like he's got a lot more in the tank," Curry said after the swap. "That's what I told him after the game. 'Are you sure? I know you got a lot of stuff going on off the court with your family and stuff. Are you sure you don't have a couple more years left in there?' Obviously, with him going to every road arena one more time, it's a different energy for sure."
Though he only scored 10 points, Wade received a standing ovation at Oracle Arena. The Warriors even played a highlight video for a player that was never on their team or involved in its history. Still, Wade stood and waved to the crowd.
"Everywhere he's gone, you watch on TV," Curry said. "It's a different energy when he gets the ball. You understand how important he's been to the game throughout his career. No matter who you root for throughout the league, you respect greatness in terms of what he's been able to do throughout his entire career. Tonight wasn't a loud night, but he had some pretty influential plays."
30 SPORTS FIGURES WHO DIED IN 2018 – TRIBUTE SLIDESHOW
Warrior star Kevin Durant, who lost to Wade in the 2012 finals with the Oklahoma City Thunder felt similarly. "I'm not surprised," Durant said of Wade's upcoming retirement. "I wouldn't be surprised either way if he would have kept playing or if he would have retired. He's done and experienced so much in this league, and he's been really good as an older guy with all the younger guys as well. So I think he's invested so much into basketball spiritually and physically that it's just time to walk away and pursue what's next in his life. As a hooper from day one, I can appreciate that about D-Wade, especially battling him in the Finals and throughout my whole career. It's good to see guys go out the way they want to."
After the game, Wade reflected on his last trip to Oracle Arena and his reception. "It was great, man," he said. "It was amazing. They really put some thought into that. Afterward, I said to my teammates that it was dope. It was a great tribute. I appreciate Steve Kerr and the Golden State organization and the fans for the ovation. It was a fun environment to play in."