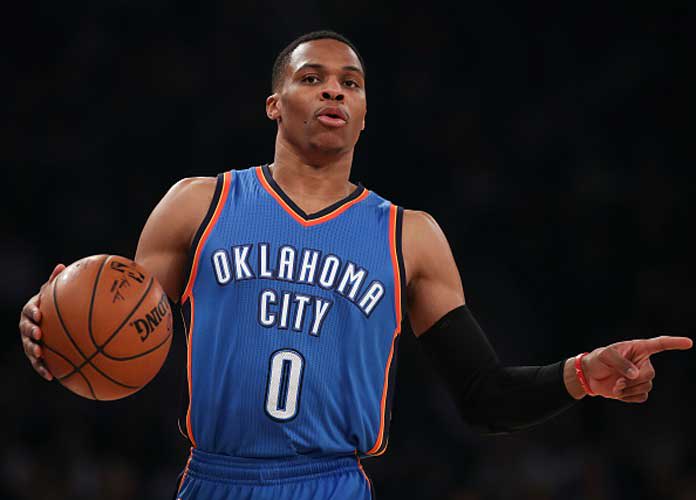 Russell Westbrook has always been one of the more expressive players in the NBA and is known for speaking his mind regardless of what the topic is.
While facing off against the Nuggets in Denver Tuesday night, the Thunder had just committed a turnover when Westbrook turned to walk to the other side of the court. Before he could move, a young fan was seen reaching out and touching Westbrook while the ball wasn't in play.
Westbrook Feels Fans Have Too Much Leeway At Games
Westbrook looked visibly annoyed and then turned to see it was a kid.
Westbrook then said a little something to the boy and his dad and proceeded to continue playing. Not the same common player and fan interaction that we're used to seeing. Nikola Jokic was seen visibly laughing at the same situation, making it seem like there was more to it then a simple "wow I'm your biggest fan" type of moment.
After the game, Westbrook let it be known he was trying to be friendly about the whole situation but it turns out he wanted the kid to know you can't be touching random players just because they're on the sidelines.
Westbrook explained the situation following the Thunder's 121-112 loss. "He hit me," the Thunder star claimed. "So I told his dad, be careful man you can't have your son just hitting random people. I don't know him, he don't know me. So I just let him know … You just gotta control your kids. It's that simple … Watch the game … Have fun, enjoy."
30 SPORTS FIGURES WHO DIED IN 2018 – TRIBUTE SLIDESHOW
Westbrook also added that fans seem to feel too comfortable sitting court-side, and have too much freedom while attending the games. He added this: "For all the fans though, there's too much leeway for the fans to be able to touch the players and get away with it. We can't react. You know, do what we need to do to protect ourselves. So it's important to understand — kids, whoever it is — dad, moms, they can say what they want as long as it's respectful. But the touching to me is off-limits."
Some people came out in Westbrook's defense, stating that no fan should feel comfortable enough to just reach out and grab the player. One member of the media, Colin Cowherd, criticized Westbrook's attitude in this situation and stated "this is why Westbrook doesn't get it."
At the end of the day, we can all understand the need for privacy and boundaries in the business, especially while attending sports games.