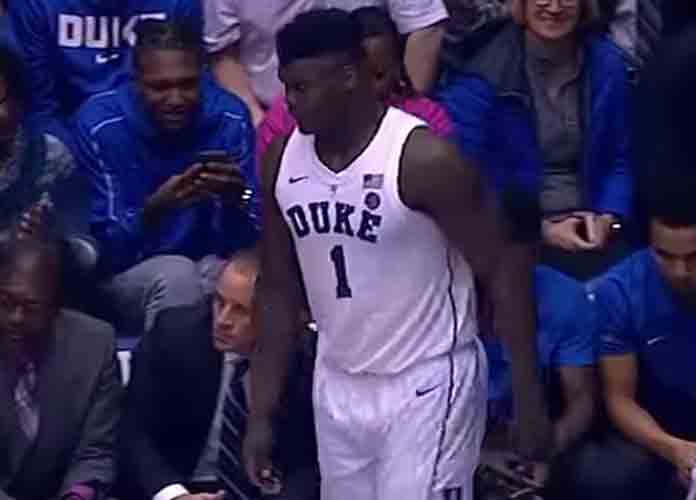 Every New York Knicks fan that turns on the TV keeps their eyes on Mitchell Robinson.
But why watch the No. 36 pick? Because Robinson isn't a No. 36-pick talent. Instead of slaving away on a college team, he took a year off and trained on his own. Teams grew weary of that radical decision and he slipped from the lottery to the second round. If he had been taken at No. 6 overall, he'd have made $13.7 million in the first three years of his career. Because he was given no safe alternative to avoid college, he'll lose out on close to $9 million. Let's face it: the G-league and European leagues are viewed as jokes compared to the NCAA.
In February, the NBA proposed to its union that 18-year-olds can become eligible to join the league in 2022. Since 2005, talented players have been forced to go to pro player factories like Duke and Kentucky and hope their shoe doesn't blow out in a game as hyped as the Super Bowl for which they're not being compensated. It's an exploitative system. You get an "education" and your school gets millions.
However, we'll never see 18-year-old players in the league again. For owners, picking a kid fresh out of high school supposedly increases the volatility of the draft. For coaches, having to develop an 18-year-old is like hell on the court and in pro sports, job security seems to be nonexistent.  For players, those younger guys will eat up contracts for buyout guys. These are mostly bulls—t.
30 SPORTS FIGURES WHO DIED IN 2018 – TRIBUTE SLIDESHOW 
From 1995 to 2005, 36 American high schoolers were drafted. Only 10 of them made at least one All-Star game. That's a 27.7% chance of being an All-Star. The No. 4 overall pick historically produces an All-Star 29% of the time. It's a good chunk of success. But you might be saying "oh, what about the guys who aren't All-Stars?" Well, first off they're gonna declare for the draft after their first year of college anyway. Did Dikembe Mutombo really need to spend four years at Georgetown asking "Who wants to sex Mutombo?" Second, that 27.7% doesn't include guys like Lou Williams, Monta Ellis, CJ Miles, Gerald Green, JR Smith, Josh Smit, and Al Jefferson, just to name a few. While not All-Stars, they've had pretty lucrative NBA careers.
If a player spends one year in the NBA, he'll walk away with at least $816,000, the rookie minimum. If you spent $50,000 per year, you wouldn't have to work for 16 years. You'll have more than enough time and money to go back to school at 22 or 23 years old. While doing this is easier said than done, especially after being around the extravagance of the NBA, so is making it as a pro ball player. The argument that owners and coaches present is nothing short of bulls—t. The players from high school hit, and they hit at a similar or even better amount that most regular draft picks.
Kobe Bryant's often given as the example of a player who could've done better with a year of college. Owners will point to Kobe falling to No. 13 as a sign of why we can't end the exploitation of 18-year-olds. Sure, the Hornets drafted him and then traded him to the Lakers. But isn't that more a sign of the Hornets being a bottom-tier franchise since their inception? As for coaches, Kobe is supposed to be an example of a player whose age made him hard to develop. The "Black Mamba" was an All-Star by his second season. Yeah, there were some issues with Shaquille O'Neal but who didn't Kobe have issues with? That's more of a sign of him being a weirdo than anything else.
As for players, they've got the most sincere argument. Rookies would actually take their jobs. But most of these guys will have already made close to $6 million by the time they're out of the league. You can live off that for close to the rest of your life. It's a valid point but as a fan I'm not buying it. Gone are the twilights of Deron Williams and James Jones. Good riddance. Nobody was packing in the stadium to see LeBron James's right-hand man play eight minutes a game. I've watched the Thunder. Raymond Felton still plays for them. I'd much rather see Tre Jones on the court. Why should I care that Zion Williamson is playing glorified exhibitions or that Ja Morant is pretty much in an intermural league? But even if they're on the Suns, I'd tune in.