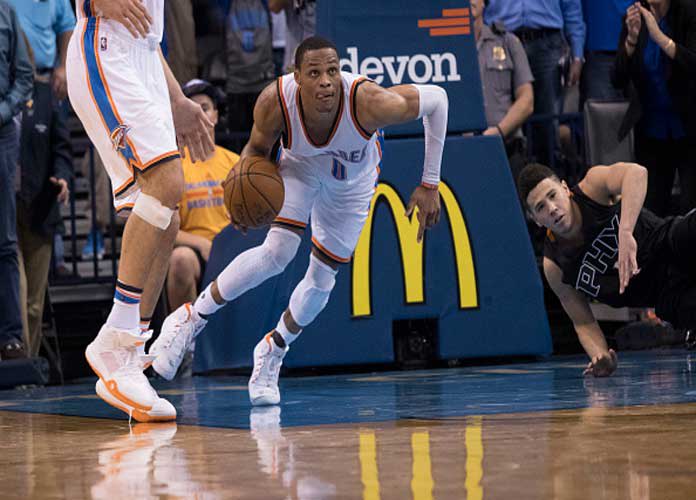 The Oklahoma City Thunder came into Game 1 of their series against the Portland Trail Blazers in an unusual position.
Blazers Lead Opening playoff Series 1-0
They found themselves a favorite despite being a No. 6 seed. Russell Westbrook, who'd just wrapped up his third consecutive season averaging a triple-double, had the most support since Kevin Durant headed out to the Bay Area. But by Game 1, Paul George couldn't lift his shoulder above his head and Steven Adams disappeared.
Oklahoma City quickly found themselves down. By the end of the first quarter, they trailed 39-25. Though they outscored the Trail Blazers by eight the next quarter, ultimately, the Thunder would fall 104-99 in the first game.
The Thunder were historically bad in game one. They went five-for-33, good for 15.2% from behind the arc. That's the lowest 3-point field goal percentage any team has shot in NBA playoff history. It's also a full 6% below Oklahoma City's previous record low.
Oklahoma City will hope to bounce back in this game. After Game 1, George said: "We're going to go out and deliver it in Game 2. It's one game at a time and you give everything you have… rack up four to get outta the series."
Game 2 will air at 10:30 p.m. EST on TNT and will be held in Portland.
30 SPORTS FIGURES WHO DIED IN 2018 – TRIBUTE SLIDESHOW 
But the Thunder's shooting woes in Game 1 weren't just from behind the arc. Overall, they shot 39.8% from the field. That doesn't mean that their season is over. After the nine games in which they shot less than 40% this season, they've averaged 45.7% from the field in the next, effectively bouncing back.
Portland knows it's the higher seed but is hesitant to admit anything more beside the fact that they "have more work to do."
With Jusuf Nurkic out and George returning to form, there's a slim chance that the Thunder won't exit the playoffs in the first round for the third year in a row. However, Game 2 will be a strong indicator of that. Either they'll win and head to Oklahoma City hoping to lock up the series or they'll be tasked with getting an edge in the series while on the road.