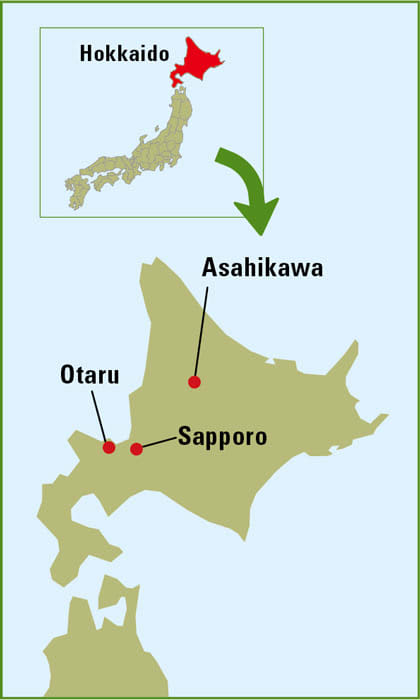 Although Japan is located in a temperate zone, the northernmost island of Hokkaido experiences brutally cold weather similar to the tundra zone. It is covered with snow in winter, making it a perfect backdrop for a snow festival.
The Sapporo Snow Festival is the biggest and most popular snow festival in Japan today, attracting over 2.6 million visitors. For about a week in February, the city of Sapporo (host of the winter Olympic games in 1972), transforms into a museum of snow sculpture installations and gorgeous illlumination. The festival actually had a humble start, when local junior high and high school students made six snow sculptures in Odori Koen Park in 1950. Since then, the snow festival has grown into an internationally known event, making the coldest time of the year a hot one in Hokkaido. During this festival in Odori Koen Park, one or two gigantic snow sculptures with a width of about 40 meters, and about 10 smaller snow sculptures, are built to amuse spectators. Also displayed there are snow and ice sculptures submitted from all over the world for the International Snow Sculpture Competition.
Asahikawa, a city located about 85 miles northeast of Sapporo, hosts two snow festivals. The Sounkyo Hyobaku Matsuri is a dynamic festival that uses a frozen waterfall as a backdrop. There are life-size temples, shrines, sculptures, amusement facilities and a bar, all of which are made of ice. Visitors are encouraged to use those buildings and facilities, to experience the world of ice. The lighting at night is particularly beautiful and transports you to a dream-like world. The festival spans from late January to mid March, so you can visit there before or after the Sapporo Snow Festival. Another festival in this city is the Asahikawa Winter Festival, which takes place in early February. This event is similar to the Sapporo Snow Festival in terms of style, as they exhibit snow sculptures in the city's commercial spots. But all of the attractions and entertainment are presented close to Asahikawa, so it is more convenient for visitors to enjoy the festival's features .
Otaru, a port city located about 20 miles west of Sapporo, also transforms itself into a fantastical world. The Otaru Yuki-akari no Michi (Otaru Snow Light Paths) is a 10-day event in February where countless candles are set on snow-covered streetsides, canals and mountains to light up the city. The shimmering candlelight in floating glass buoys is particularly lovely to watch.
All of these snow festivals are scheduled close enough for you to do some snow festival hopping.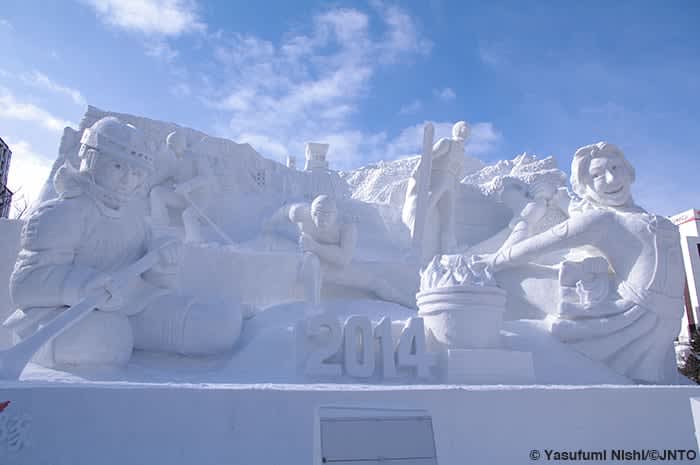 Various sizes of snow sculptures and objects amuse spectators at the Sapporo Snow Festival.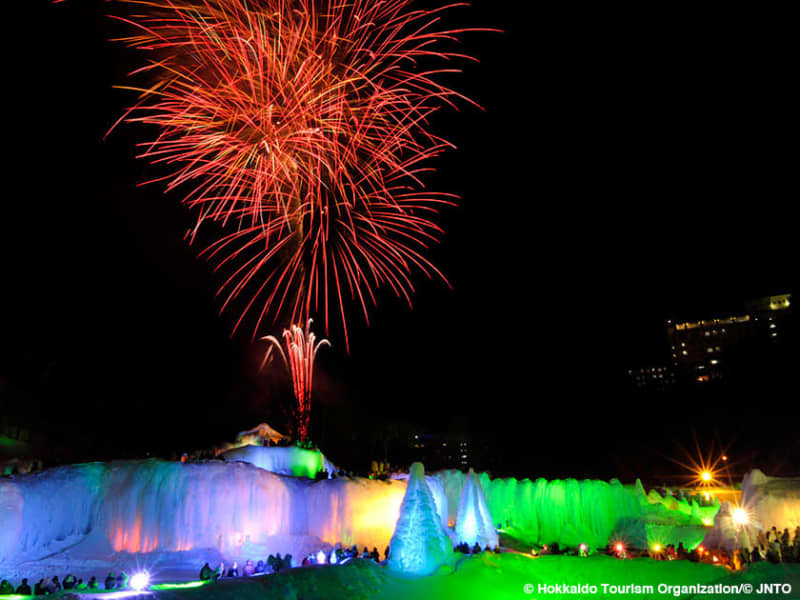 A frozen waterfall is the stage for Asahikawa's Sounkyo Hyobaku Festival. Beautiful lighting and fireworks glorify the dynamic nature of the North.
---
What to Eat during the Snow Festival Season in Hokkaido
Surrounded by the ocean, Hokkaido offers an abundant winter seafood harvest including snow crab, King crab, cod, salmon, ikura (salmon roe), konbu kelp and many other fatty fish. So enjoying sushi and sashimi is one good way to savor the local and seasonal offerings.
Also great in winter is nabe hot pot. You should try Kani Nabe (hot pot featuring King crab or snow crab in konbu kelp dashi broth) and Ishikari Nabe (hot pot featuring salmon, vegetables, and tofu in miso flavored dashi broth), both of which are full of Hokkaido essence.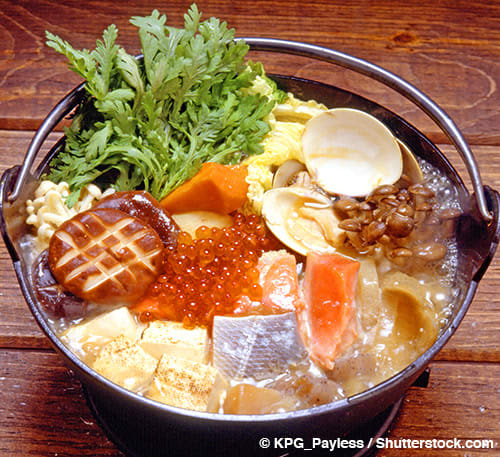 Sapporo and Asahikawa have their own styles of ramen. Sapporo style ramen features curly noodles with a chewy texture and thick soup with lard, and is topped with sautéed vegetables, chashu (roast pork), bamboo shoots and scallions. It is often also topped with butter corn, but this is optional. Sapporo style ramen can be miso, shoyu (soy sauce) and shio (salt) flavored.
Asahikawa style ramen is unique in the way it uses broth made with the multiple ingredients (chicken, seafood, pork bone and vegetables), but most of the time its flavor is shoyu. Like Sapporo style ramen, it also uses lard to add heartiness. Noodles are curly and relatively thin, and toppings are simply chashu, bamboo shoots, and scallions.