Chopsticks NY republishes selected articles from att.JAPAN, a multilingual travel magazine for foreign visitors to Japan. This month, we feature Sapporo, the capital city of the northern Japanese island of Hokkaido Prefecture. The city is home to sacred shrines and world-famous festivals that take place throughout the year.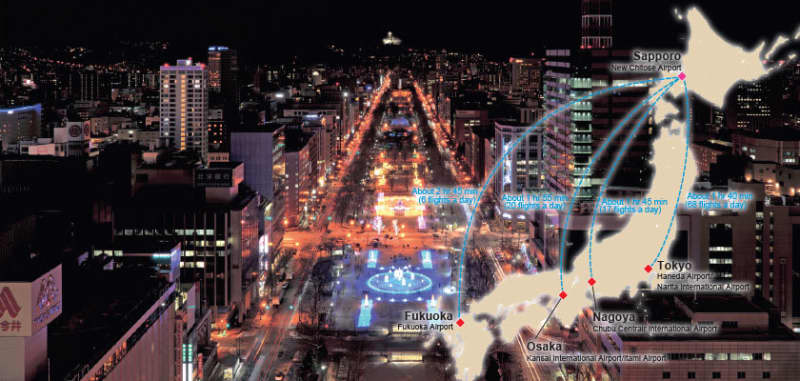 Sapporo (New Chitose Airport) can be accessed easily from all over Japan. In addition, Sapporo Station is easy to access from New Chitose Airport by JR (about 40 min on rapid trains). You can go to the center of Sapporo without going outside.
Odori Park
The view of Odori Park from the Sapporo TV Tower is superb. In the daytime, you'll be able to see series of mountains beyond the park, and at nighttime, the beautiful night view of Sapporo glitters before your eyes.
Odori Nishi 1-Chome to 12-Chome, Chuo-ku, Sapporo CitySubway Odori Sta., Nishi 11-Chome Sta.
---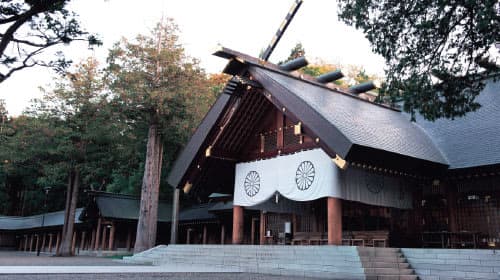 Hokkaido Jingu Shrine
A representative shrine of Hokkaido and a famous spot for viewing cherry blossoms. In the cherry blossom season, many people gather and eat "jingisukan"* at Maruyama Park located next to the shrine.
*Jingisukan: Lamb barbeque, specialty of Hokkaido.
474 Miyagaoka, Chuo-ku, Sapporo City15 min walk from Subway Maruyama-Koen Sta.
---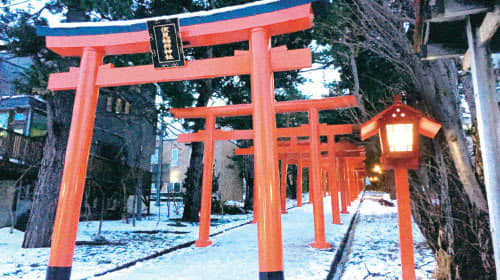 Sapporo Fushimi-Inari Shrine
A shrine derived from Fushimi-Inari Taisha Shrine in Kyoto. Twenty-seven red torii gates beautifully line the entrance way to the shrine. There is a "wish stone" that is said to fulfill what you wish for if you give up one thing that you like.
2-2-17 Fushimi, Chuo-ku, Sapporo City9 min ride on the JR Hokkaido Bus Ropeway Line (Sakaigawa route) from Subway Maruyama-Koen Sta. and 5 min walk from "Jikeikai-Mae" stop
---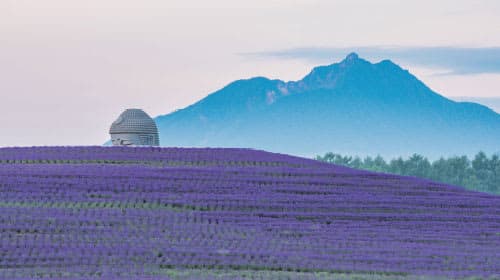 Hill of the Buddha
The Hill of the Buddha in Makomanai Takino Cemetery was designed by the world-famous architect Tadao Ando. The view of the Buddha when coming out of the tunnel is spectacular. The hill is covered with lavender in the summer and snow in the winter.
2 Takino, Minami-ku, Sapporo City23 min bus ride on Hokkaido Chuo Bus "102" from the No. 2 bus stop at Subway Makomanai Sta.
---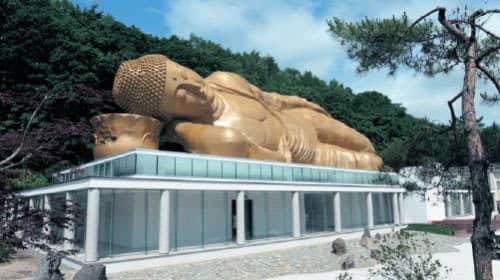 The Great Nirvana Temple
As you go along Makomanai-dori Street, with your back to the Hill of the Buddha, you will see a large reclining Buddha statue. It is one of the largest reclining Buddha statues in Japan!
6-1-24 Ishiyamahigashi, Minami-ku, Sapporo City
---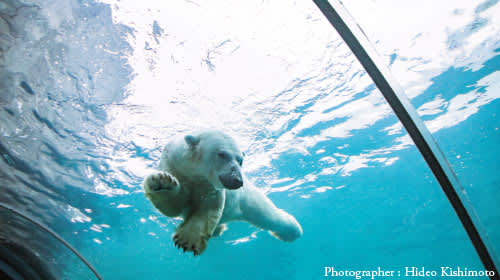 Sapporo Maruyama Zoo
Located within Maruyama Park, the Sapporo Maruyama Zoo opened in 1951 and was established as Hokkaido's first zoo. Home to over 160 varieties of mammals, birds and reptiles, the zoo is one of the most nature-oriented zoos in Japan as it aims to recreate the animals' natural habitats. You can watch polar bears swimming from an underwater tunnel in the Polar Bear Hall that opened in Mar. 2018.
3-1 Miyagaoka, Chuo-ku, Sapporo City15 min walk from Subway Maruyama-Koen Sta.
---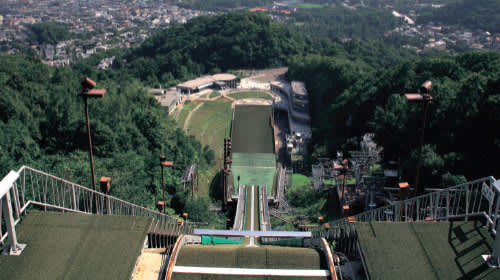 Okurayama Viewing Point
This is the 90-m class ski jump venue of the Winter Olympic Sapporo Games in 1972. Ever since, it has been the venue for international competitions. You will be able to see the entire city of Sapporo from the observation deck. You will also be able to see the steep slope of the ski jump and the starting point from very close up. It is spectacular!
1274 Miyanomori, Chuo-ku, Sapporo City10 min ride on the JR Hokkaido Bus "line 14" Araiyama line from Subway Maruyama-Koen Sta. and 10 min walk from the "Okurayama Kyogijo Iriguchi" stop
---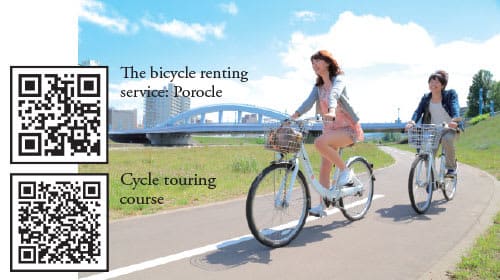 Cycling
The bicycle renting service is also recommended for sightseeing in Sapporo! There are also cycle touring courses.
---
Festivals & Events in Sapporo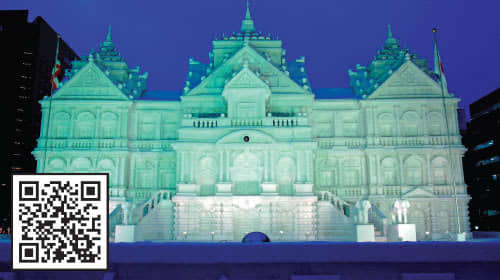 The Representative Event of Sapporo: Sapporo Snow Festival
The festival started in 1950 when local junior high and high school students created six snow statues in Odori Park. Now it is an event that many tourists from all over the world come to see. The Snow Festival has three sites: the Odori Site where visitors can enjoy various giant snow statues and projection mapping; the Susukino Site where romantic ice statues stand; and the Tsudome Site where visitors can play on slides made of ice, snow rafts and snow. A large ski/snowboard jumping platform is set up at the Odori Site, and there is an event where Japanese top-class ski jumpers perform their jumps! Watching the snow statues being dismantled after the festival is also something you can enjoy that is not very well known.
Every year from the first to second week of February*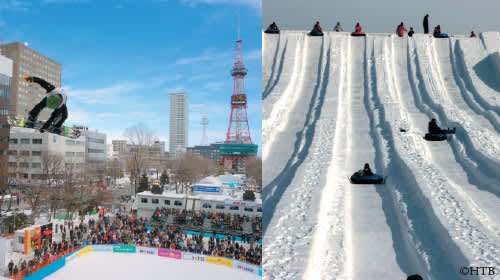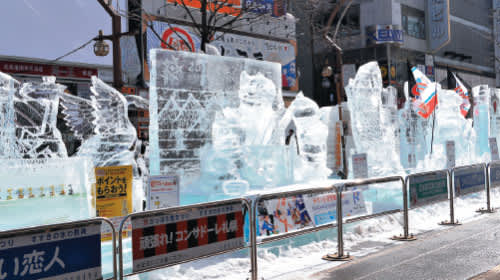 ---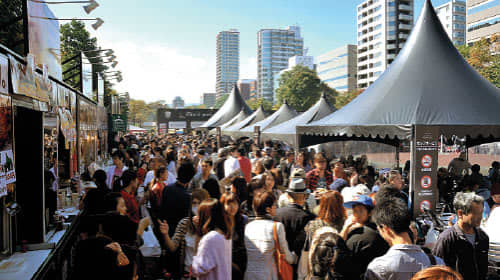 Sapporo Autumn Fest
At the Autumn Fest held in Odori Park, local products are proudly presented, and you can enjoy delicious Hokkaido foods to your heart's (and stomach's) content!
Every year in September*
---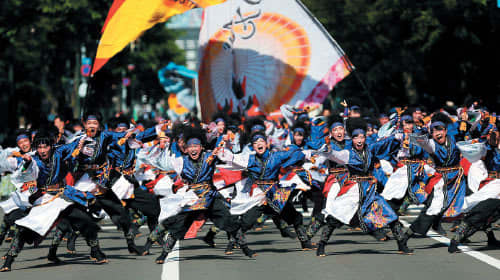 YOSAKOI Soran Festival
The main site of the YOSAKOI Soran Festival is Odori Park, the center of Sapporo. The dance is a mixture of "Naruko" used in the "Yosakoi Festival" in Kochi Prefecture and Hokkaido's folk song "Soran-bushi." About 30,000 dancers participate in this spectacular event. There is an event during the festival in which anyone can join and dance.
June 5 to 9, 2019*
---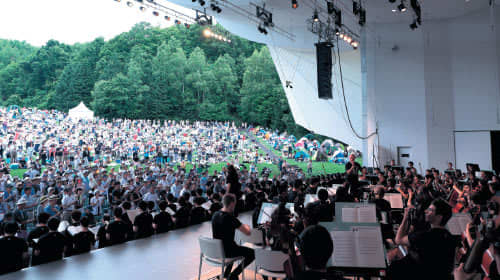 Pacific Music Festival
The international educational music festival, Pacific Music Festival was founded in Sapporo by the leading 20th century conductor and composer Leonard Bernstein. Young musicians gather from all over the world, perform at outdoor concerts at Sapporo Art Forest where you can enjoy the summer breeze, present professional performances in Sapporo Concert Hall with its excellent sound, and give free concerts you can listen to in the city such as in Odori Park.
July 6 to August 2, 2019*
SAPPORO CITY JAZZ held during the same summer season is also recommended! Sapporo is filled with music at this time of the year!
---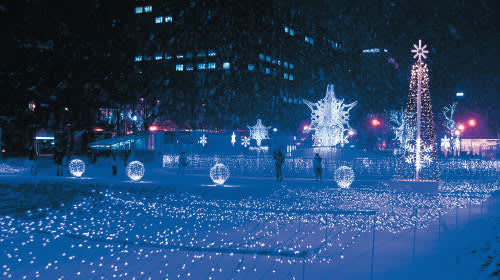 Sapporo White Illumination
Sapporo White Illumination was certified as one of the Japan's Three Major Illuminations in 2017. You will be able to enjoy the art of beautiful lights that spread and sparkle mainly in the snowy Odori Park.
Late November to mid-March*
---
Gifts in Sapporo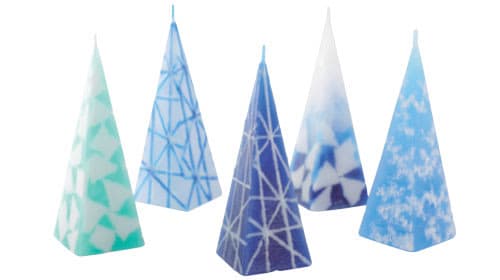 Snow and Ice Candle
Sapporo Style Shop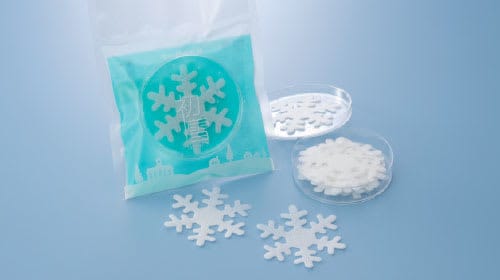 Paper Soap "Hatsuyuki"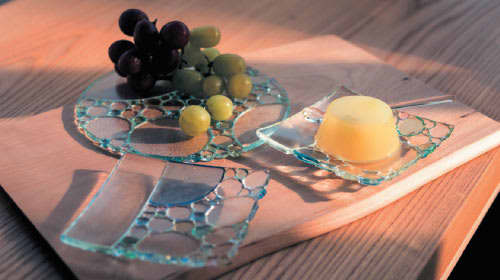 Hyoteki
---
The Kurashi Store of Hokkaido
A store filled with popular and fascinating products of Hokkaido such as food, liquors, and handicrafts.
NORBESA 1F, 5-1-1 Minami Sanjo Nishi, Chuo-ku, Sapporo City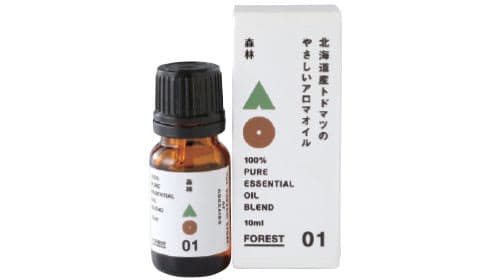 Aromatic oil with the soft scent of Hokkaido's Sakhalin fir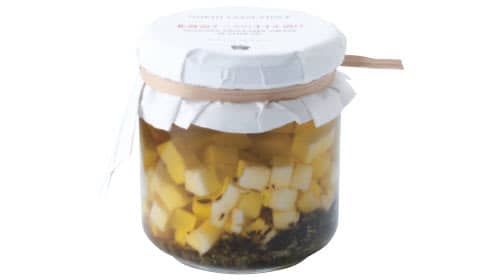 Oil-Marinated Hokkaido Cheese
---
Popular Sweets of Sapporo/Hokkaido
Hokkaido sweets are all so delicious!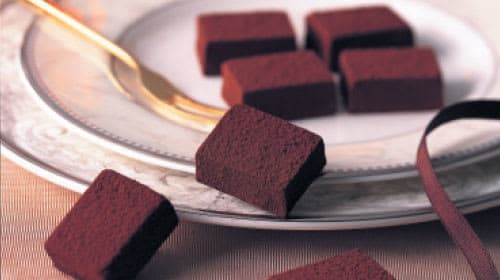 ROYCE' "Nama Chocolate"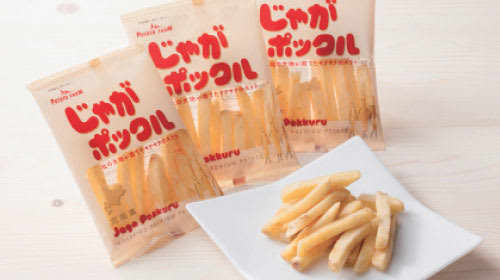 Calbee "Jaga Pokkuru"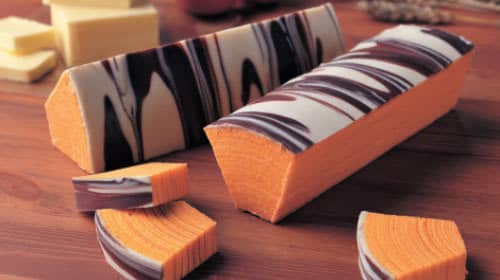 Ryugetsu "Sanporoku"
---
---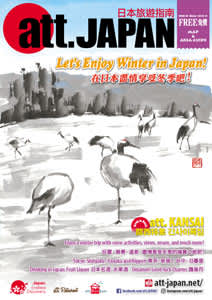 About att.JAPAN
The magazine att.JAPAN is for non-Japanese visiting from overseas and those residing in Japan. This quarterly magazine written in English, Mandarin, and Korean offers a wide range of information about Japan––from travel and sightseeing to various aspects of traditional culture and the latest trends. The magazine is distributed at major airports, hotels, and tourist information centers throughout Japan.
http://att-japan.net/en/
Facebook: att.JAPAN instagram: att.japan
www.youtube.com/user/attJAPAN
---
This "Sapporo" story previously appeared in att.JAPAN. The information was updated on April 5th, 2019, but further changes are possible.