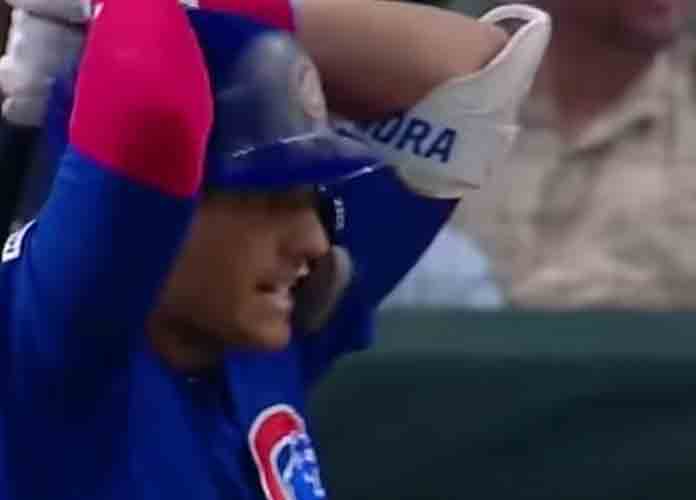 The Chicago Cubs traveled to Minute Maid Park on Wednesday to play versus the Houston Astros. During a pitch, Albert Almora Jr., an outfielder for the Cubs, hit a foul ball behind the third base, hitting a young child with the ball during the fourth inning.
Almora, 25, threw his hands up in shock and was embraced by team manager Joe Maddon and teammate Jason Heyward as he cried. An unfortunate and sad situation had Almora struggling to finish the remainder of the game. When the inning was over, Almora went to behind the third base area where the girl was hit, and seemed to tear up with one of the nearby security guards when he asked about the current status of the small child.
The Astros confirmed that the child was taken to a nearby hospital shortly after the incident, and a nearby fan reported that the young girl seemed to be conscious and was being taken away upstairs.
"As soon as I hit it, the first person I locked eyes on was her," said Almora, a father of two, according to NPR News. "I had to try to keep my composure during that at-bat, but when that half-inning was over, I just couldn't hold it anymore."
Players from the Astros' infield were shaken up as well, some falling to their knees after the tragic accident happened. Other players and umpires had to stop for a moment to process what had happened.
30 SPORTS FIGURES WHO DIED IN 2018 – TRIBUTE SLIDESHOW 
"Albert is an emotional young man with children, so that made it even more real to him," Maddon said, according to NBC News Chicago. "I understood exactly what he was going through right there."
As of now, there is no immediate update following the small child's status, and the Astros' denied any further news concerning her condition.
"We are not able to disclose any further details at this time. The Astros send our thoughts and prayers to the entire family," the Astros said in a statement, according to NPR News. The Cubs finished the game and won 2-1.