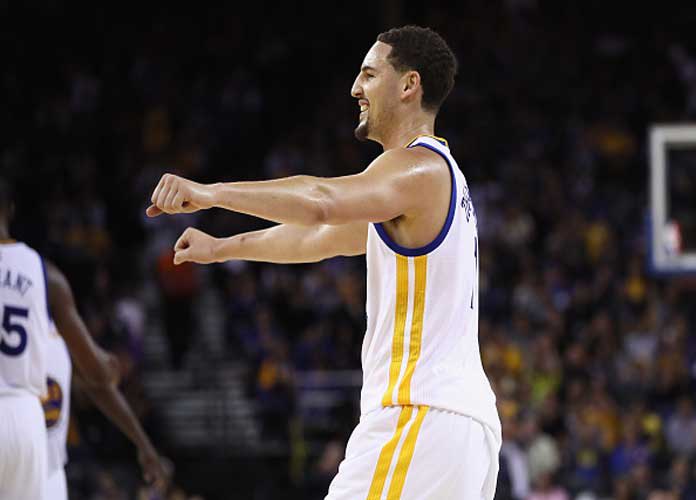 The Golden State Warriors are without Kevin Durant yet again, who is officially ruled out for Game 3 with an injured calf, while Klay Thompson is ruled as questionable before Wednesday's game at the Oracle Arena. Thompson suffered a hamstring injury in the 4th quarter of Game 2 and didn't finish the game. The injury ridden Warriors are suffering before their first home game of the series, and the Toronto Raptors couldn't have a better shot of stealing a game away from home to take the series lead.
Kevin Looney will miss the rest of the series with chest contusions, Andre Iguodala and DeMarcus Cousins have been battling through injuries between games, and Stephen Curry wasn't full-go as well in Game 2 with stomach issues. The Warriors' roster has dwindled dramatically, and will be hoping Thompson is cleared before 9:00 EST.
"Obviously I would do anything I can to be out there, but it's all in their hands," Thompson said, according to CBS Sports. "If there's any pain, it will be a no-go just because of the position we're in. This could be a longer series, so there's no point in trying to go out there and re-aggravate it and potentially keep myself out of the whole entire Finals instead of just one game."
The Warriors' staff will be thinking long-term, as the series is tied at just 1-1, and won't be looking at Thompson as an expendable player with so much of the series still left to play.
"Klay is always going to say he's ready to go," Warriors head coach Steve Kerr said, according to CBS Sports. "What we'll have to determine is, is that a risk? If he plays, are we risking anything? If the training staff feels good about his ability to go out there and play without making things worse, then he'll play," he goes on. "But if there's a risk, we would rather give him the next couple of days to continue to heal and hopefully have him out there for Game 4."