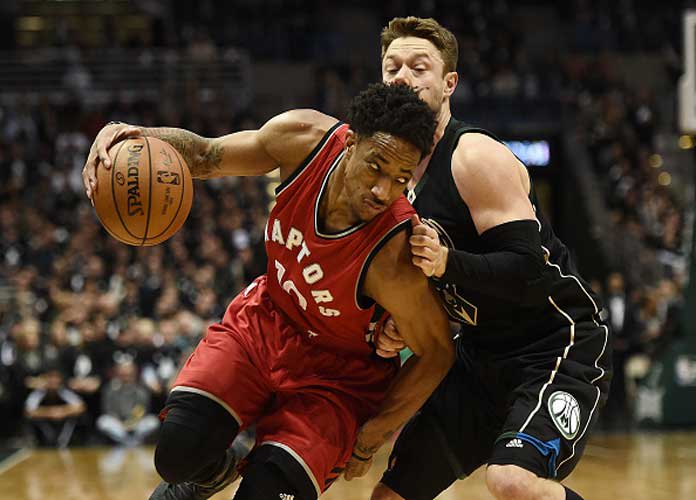 Kawhi Leonardand the hype generated alongside Toronto's first NBA Finals appearance continues to expand as the series rolls on, now portraying "The Six" as a premier basketball city.
Although this phenomenon continues to benefit the franchise to levels never attained before, it simultaneously swallows up memories depicting past figures who delivered night after night for others to now reap the benefits.
Although his tenure as a Raptor ended less than a year ago, DeMar DeRozan's days lighting up Scotiabank Arena seem as a memory old enough to already find itself written into history books for Toronto school children to study. DeRozan spent eight years wearing the Raptors' colors, filling up the stat sheet as easily the team's best player during their multiple successful years. After continuous seasons containing impressive win totals as a dominant Eastern Conference power, DeRozan formed an even tighter bond with the city after proving his commitment to Toronto, as he re–signed with the team in 2016, despite frequent speculation that the star guard planned to depart for the luxurious, big market Los Angeles Lakers.
DeRozan eventually learned his loyalty stood unmatched, as the Raptors traded him to the San Antonio Spurs for Leonard, and as we all know the rest is history. The Raptors now represent the Eastern Conference during the NBA Finals with a chance to capture a championship, an endeavor they never accomplished during DeRozan's Raptor days. While DeRozan enjoyed an impressive inaugural year as a Spur, averaging 21.2 points and 6.2 assists per game, he experienced a first-round exit as the Spurs lacked his former team's talent.
30 SPORTS FIGURES WHO DIED IN 2018 – TRIBUTE SLIDESHOW 
Despite this tough break for DeRozan, he remains upbeat, showing genuine support for his former team. As a Raptor, DeRozan grew especially close with teammate Kyle Lowry, who reportedly exchanges texts with DeRozan before and after each game. DeRozan commented on the matter as he stated, "I'm rooting for my best friend [Lowry] to do well, to accomplish something that we tried to do all the years, and he has the opportunity to do it. All the guys on that team, they know I'm rooting for them."
The four time All–Star admittedly still realizes his contribution to Toronto's success despite his new allegiance to San Antonio as he referred to himself as a "sacrificial lamb." DeRozan described the groundwork he laid as he stated, "You just have to sit back and understand, like, you know, you are the reason so many things was even possible."
Despite his stoicism, one must imagine DeRozan wishes he could finish the job that he initiated eight years ago. For now though, DeRozan only roots as a fan for his teammates and friends. Expect DeRozan to be watching and supporting Toronto as Game Three of the NBA Finals tips off Thursday night at 9:00 p.m. EST at Oracle Arena.