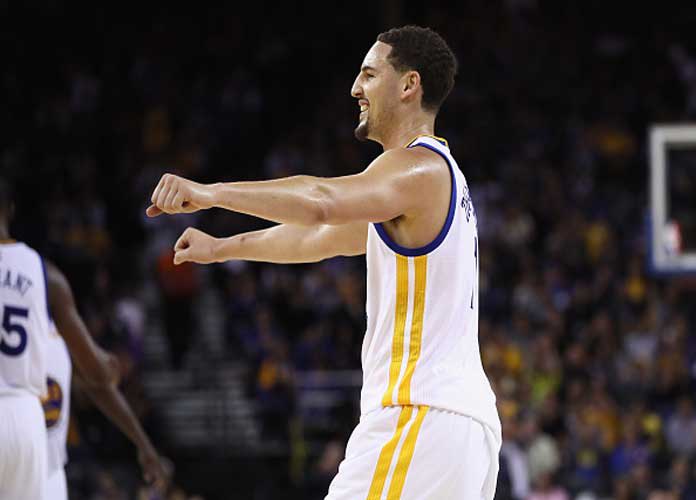 Warriors point guard Steph Curry apparently took a page out of the LeBron James "NBA Finals handbook" during Game Three, putting up an unreal 47 points, eight rebounds, and seven assists while inconsequently suffering defeat,  as Golden State surrendered another matchup to Toronto. After a poor 1-7 shooting performance from DeMarcus Cousins, Kevin Durant and most notably Klay Thompson's absence burned a glaring hole into the Warriors's overall play, as Golden State expectedly struggled without their star players, now finding themselves down two games to one. Looking to prevent an uncharacteristic second home loss during the playoffs, Golden State looks to reinstall Thompson and even things up tonight once more.
Although Durant plans to sit out once more, most predict a Thompson return to the hardwood during Game Four after missing his first career playoff game due to a hamstring injury. Pending a Thompson appearance tonight, the "other splash bro" would join Cousins, as well as superstar Kawhi Leonardto assemble a now growing squad of stars playing through injury during these finals. Thompson's legendary shooting skills and superb defense certainly elevate Golden State both offensively and defensively, as his presence certainly stunted the teams play during their Game Three loss. Thompson currently averages 23 points during these finals and fills an "X–Factor" role amidst his return tonight. Although his calf likely remains unhealed, look for Thompson's resurgence to propel the Warriors and provide the necessary aid for Curry.
Thompson's injury occurred during a three–point attempt during Game Two where the guard extended his legs looking to draw a foul and fell awkwardly, nearly slipping into a split position. Thompson showed immediate frustration after the play, unable to move without a limp and shouting with anger as he left the court for the locker room. Thompson often prides himself on his toughness, as he even attempted to protect his impressive attendance playoff record prior to Game Three, but ultimately sat out as the Warriors refused to allow Thompson to play. Head coach Steve Kerr later illustrated Thompson's fortitude further, referencing his ability to play despite ongoing pain.
Although Golden State knows first hand how easily a 3–1 lead can crumble, Thompson looks to return and lead a winning effort for the Warriors, hoping to avoid a potential steep series deficit tonight as Oracle Arena hosts Game Four, potentially the historic arena's final basketball game, at 9:00 p.m. ETS.