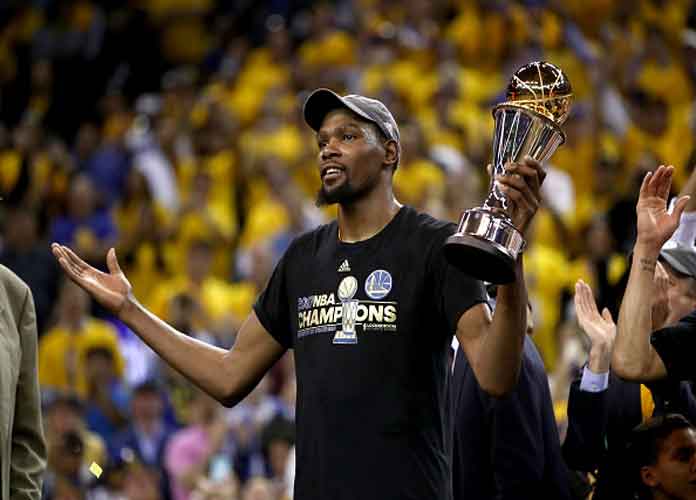 On Monday night, the Toronto Raptors can clinch their first ever NBA Finals in franchise history. The Golden State Warriors are down 1-3 in the series, and could lose their chance at a third straight championship.
It's undeniable that the Warriors have been depleted this finals, but have slowly returned to full status. Klay Thompson came back in Game 4 to give the Warriors a boost after hurting his hamstring in Game 2, and Kevin Looney returned in Game 5 after it was believed he would miss the remainder of the finals with chest contusions. Kevin Durant, who hasn't played in these finals after suffering a calf injury against the Houston Rockets on May 8, practiced on Sunday and is listed as questionable ahead of Game 5. The Warriors would pick up a significant boost if he were to be healthy for the remainder of the series.
"Everything has been individual," head coach Steve Kerr of the Warriors said, according to Bleacher Report. "So he'll practice with the group. We'll get him some game-like simulation with some of our younger guys and see how he feels. And if all goes well, then he'll play, but we gotta see how it all unfolds."
If Durant were to come back for a potential elimination game, the Warriors would most likely have him play limited minutes, as he hasn't played in over a month. He would be an emotional boost for the team however, and could see them winning in Toronto before returning back to Oakland for Game 6.
For the Raptors, Kawhi Leonard has stolen the headlines, as he has had 14 30-point games this playoff run, tying Kobe Bryant and LeBron James in the last decade. Leonard could make NBA history with a quality performance on Monday night, also seeking his second NBA Finals ring after winning one with the San Antonio Spurs. Leonard's supporting cast has strived in this series as well, with Serge Ibaka, Kyle Lowry and Pascal Siakam all scoring in double digits in Game 4.
The Raptors are at home, and are three-point favorites for Game 5, but the Warriors are 5-1 in their last six games when on the brink of elimination. The over/under is 212.5, and the over has hit five out of the last six games when Toronto is at home. With Durant being questionable, the odds could swing one way or another when it comes closer to tipoff. Game 5 of the NBA Finals takes place in Scotiabank Arena in Toronto on Monday night and starts at 9:00 EST. The game will be broadcasted on ABC and can be streamed live on the Watch ESPN app.