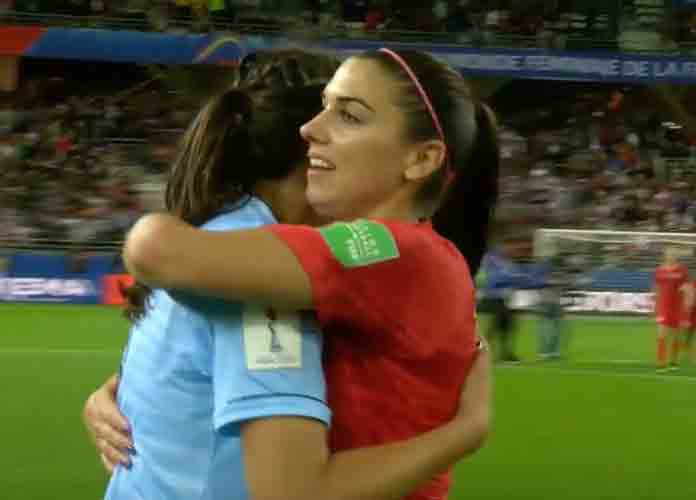 Picking up right where they left off, the United States Women's soccer team punished yet another goaltender on Tuesday afternoon in France.
This time, however, the occasion's unfortunate victim hailed from Thailand, as the reigning World Cup champions found the net time after time during their inaugural match. Alex Morgan's introductory goal just 12 minutes into the contest only ignited an engulfing flame, which the Thailand Women's national team failed miserably to put out, as Morgan followed up with a whopping four goals while her teammates added another seven goals. Once the dust settled, the scoreboard flashed a 13–0 score, breaking a record for the largest winning margin and most total goals scored during a World Cup match.
Alongside their monstrous victory, the defending champs now carry some extra baggage, however, which unfortunately poises to weigh them down, as the team continues to draw criticism due to a growing belief that they intentionally "ran up the scoreboard" on their clearly defeated opponents en route to their victory. Most comments denouncing the team's actions came once their goal total reached double digits, as manly verbally attacked players due to extravagant post–goal celebrations. The team eventually lost the support of some reporters such as Jeff Paterson who tweeted out, "the goal celebrations of #USWNT at 9-0, 10-0, 11-0 are so overboard. Why are they even trying to score anymore. I'm on #teamthailand at this point." While goals piled up, reporters continued to join Paterson, with multiple figures surrounding the sport condemning the team's behavior.
As she did on the field for years, former team member Abby Wambach came to the squad's defense, tweeting out a response illustrating the intoxicating excitement the World Cup brings and each player's right to enjoy the moment.
SPORTS FIGURES WHO DIED IN 2019 – IN MEMORIAM SLIDESHOW 
Head coach Jill Ellis later neglected to admit any disrespect shown toward Thailand during a press conference. Ellis commented on the affair as she stated, "A lot of this is about building momentum and so as a coach I don't find it my job to rein my players in. This is what they've dreamt about. I respect Thailand, I spoke to some of them afterward and they should keep their heads up. This is part of the growth of the game."
The United States sits ready to face off against Chile during their next match this upcoming Sunday at 12 p.m. EST. While the team's on–field talent certainly poises to draw attention, the squad will draw further eyes now, as their behavior surrounding their success now generates noticeable attention as well.