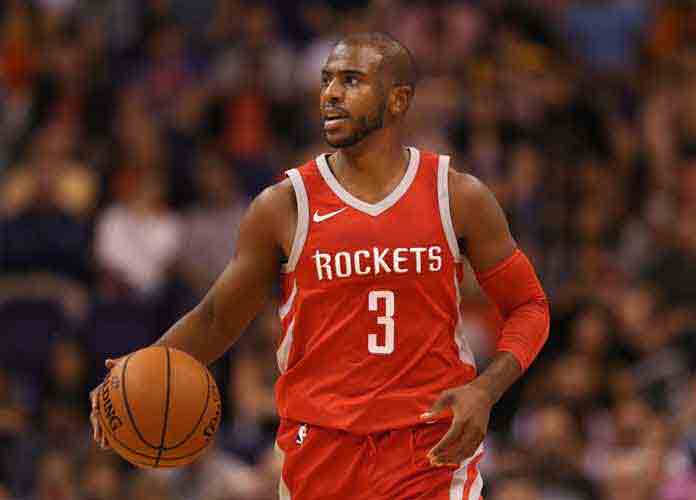 The message from the Houston Rockets and their general manager Darryl Morrey is loud and clear: Chris Paul is not going anywhere.
Earlier this morning, Morey appeared for a segment on Sportstalk 790, a Houston sports radio show, and denied any truth to the rumors around the league that the Rockets are looking to shop point guard Paul.
Last week, ESPN'S Stephen A. Smith reported that Paul wanted out of Houston, preferring a trade to the Los Angeles Lakers to play alongside his good friend, Lebron James. Morey has wholeheartedly denied any truth to this rumor, The Rockets front office overall has hit a recent slate of complete turmoil.
SPORTS FIGURES WHO DIED IN 2019- TRIBUTE SLIDESHOW
After losing in six games against the Golden State Warriors in the second round of the playoffs, Rockets owner Tillman Fertitta issued a decree to Morrey and his staff: win now. Whatever it takes, the Rockets are in win-now mode and nothing else will suffice upper management for the Rockets. Morrey has already fired most of the head coach staff,  leading to questions of whether or not the Rockets coach will be following him.
ESPN'S Tim McMahon recently reported that there is a growing tension between Paul and James Harden of the Rockets, particularly in regards to the offensive schemes that the Rockets have, which feature Harden way more than any other player on the Rocket roster. Paul is becoming more and more increasingly frustrated with both Harden's domination of the basketball and the lack of actual set plays that the Rockets run offensively. Across the entire NBA, the Rockets have averaged the second-highest amount of isolation plays.
"What you have are two highly competitive guys who were very disappointed that we didn't beat Golden State," Morey said. "You've got two high-level competitors who want to figure out how to win at a higher level, as well. Naturally, people who want that so bad, something that's so tough, it's going to create sometimes things that need to be discussed. But it's all, to me, in bounds of any superstars."