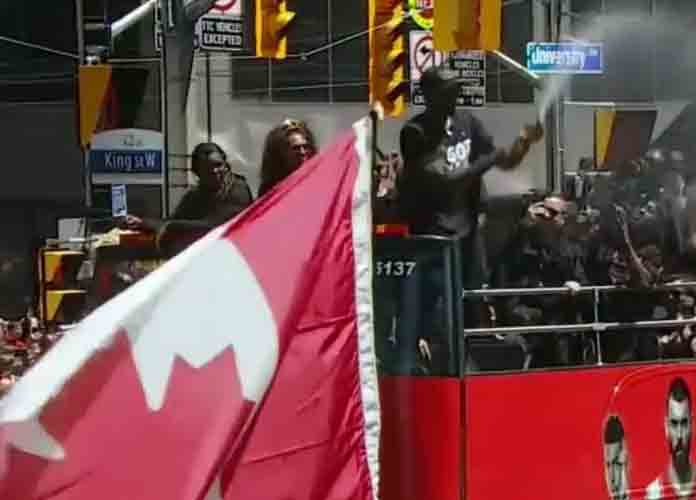 The Toronto Raptors' parade was held Monday for celebrating the franchise's first NBA Finals trophy. With over a million fans at the parade, a shooting occurred with four people shot and injured.
Three were arrested by Toronto police, who found two guns on the scene. Police Chief Mark Saunders said the four who suffered gunshot wounds were not in critical condition, according to ABC News. Canadian Prime Minister Justin Trudeau updated the Toronto community and people all over the world of the situation that took place during a gathering of celebration.
The shooting was near City Hall Square, with the Raptors players and Trudeau just a block away on stage celebrating what they achieved earlier last week. Sportscaster Matt Devlin was hosting the event on stage and interrupted the celebration to give a warning announcement
"I want to make sure everyone stays calm," said Devlin, according to ESPN. "This is serious. Everyone stay calm. … There is an emergency being dealt with."
Thousands of fans scattered in a stampede after gunshots were heard, a scary situation that evolved from a cheerful honoring of history.
"It is disappointing and I'm sure a source of anger for more than just me that anyone would carry a gun and discharge it at what was otherwise a joyous celebration," Toronto Mayor John Tory said in a statement. "I hope those found responsible will be held to account to the full extent that the law permits. I want to commend and thank the millions of other people who happily and peacefully celebrated our beloved Toronto Raptors."
SPORTS FIGURES WHO DIED IN 2019- TRIBUTE SLIDESHOW
The celebration was continued after police confirmed the danger was ceased, although fans surely weren't as joyous for the remainder of the parade.
Before the gunshots, fans and players were seen celebrating on buses in the streets, drinking and smoking cigars. The NBA Finals MVP Kawhi Leonard's contract with the Raptors is up, and it's unsure whether he will resign with the team or journey to possibly L.A.
"I'm going to take the right time," Leonard said. "You don't need too many days to figure it out. We'll see what happens. Once that time comes, then we'll all lay the pros and cons out."
Fans can be heard cheering "stay, stay, stay," or "one more year, one more year." Guard Kyle Lowry can be heard interrupting the cheers saying, "five more years, five more years."