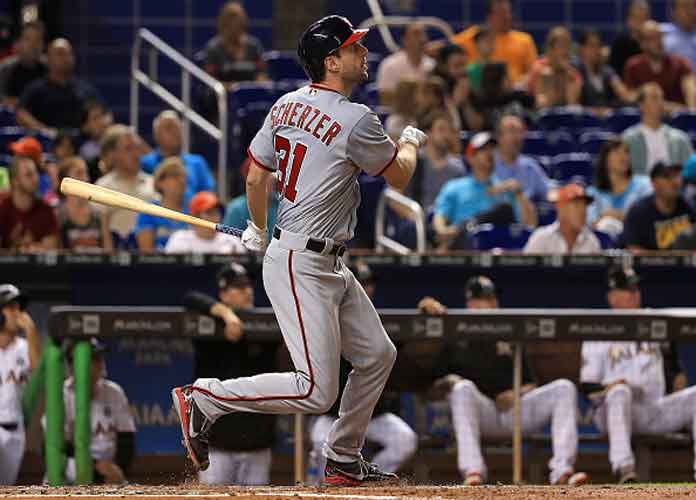 During a continuously drab campaign this season, Max Scherzer's consistent excellence shines as a lone bright spot for the struggling Washington Nationals. That bright spot dimmed just a bit yesterday when Scherzer began practicing his bunts during a batting practice session, missing the ball badly during one attempt and bouncing it back toward his face.
Even as Scherzer buckled in pain after the ball collided with his face, those surrounding Scherzer looked on with concern, yet also some disappointment, as the incident occurred likely due to Scherzer lacking focus. Videos later depicting the incident generated comical buzz surrounding last year's win total leader, as self–inflicted pain such as this tends to warrant laughter quite often amongst the public.
X–Rays later confirmed the incident left Scherzer with a broken nose. Despite the injury, Scherzer remains penciled to start against the Philadelphia Phillies this Wednesday night, pitching the second game of a double-header. A CAT scan later came back negative, giving further hope for the Washington ace.
SPORTS FIGURES WHO DIED IN 2019- TRIBUTE SLIDESHOW
Despite Scherzer's impressive 2.81 ERA, he only posts a 5–5 record, likely resulting from the little assistance he received from his team during his outings. The Nationals own the worst bullpen, combining to form a 6.27 ERA, often blowing multiple games set up by Scherzer. With the trade deadline approaching and the Nats still stuck in the NL East's basement, Scherzer could potentially come into play as a trade piece, a piece for which nearly all contenders will line up for, trampling over each other hoping to acquire the four–time Cy Young winer.
Up until this year, Washington neglected to field any offers for their ace. However, during this season's exceedingly disappointing results thus far, big changes such as trading Scherzer appear inevitable and on the horizon. Hopefully with a healed nose intact, Scherzer can either work to bring Washington out of the muck currently tying it down, or climb aboard with another club and chase his first-ever World Series title.