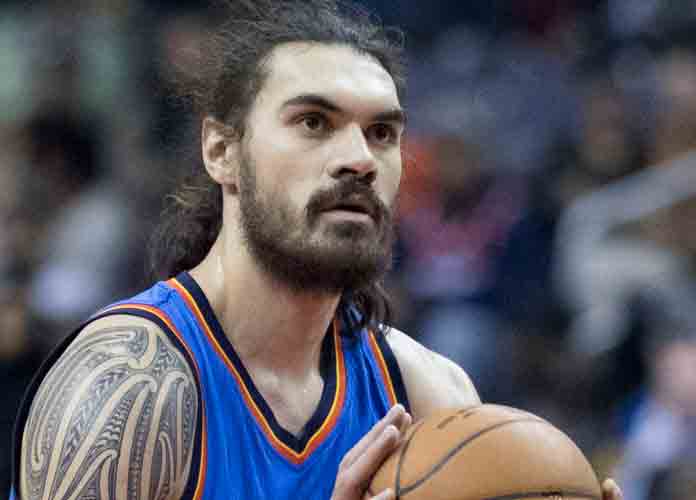 The Boston Celtics have identified a candidate as their possible replacement at center for Al Horford. Steven Adams, who currently plays for the Oklahoma City Thunder as the team's starting center, is reportedly on Celtics general manager Danny Ainge's "radar."
Adams, a seven-foot, 250-pound center from Rotorua, New Zealand, has played his entire six-season career thus far with the Thunder, who drafted Adams as the 12th overall pick in the 2013 NBA Draft after one season at the University of Pittsburgh. In 467 regular season games in his career for the Thunder, Adams has averaged 9.7 points, 7.4 rebounds and 1.0 blocks per game on 58.8% shooting from the field. The Thunder's primary reason in moving Adams has more to do with his high salary than with anything else. In 2016, Adams signed a four-year, $100 million contract extension with the Thunder. Currently, Adams has two years and $53 million left to be paid out on that extension. With the loss of both Horford and Kyrie Irving in the coming weeks this summer to free agency, the Celtics have money to spend and need a tall, defensive leader to replace what Horford brought night in and night out.
SPORTS FIGURES WHO DIED IN 2019- TRIBUTE SLIDESHOW
NBC Sports Boston reporter A. Sherrod Blakely has said, "Adams is on Boston's radar, but it's unclear where he falls in the team's pecking order as far as players they plan to pursue, or exactly what they are willing to give up in order to acquire him. But if you're talking about big men who can make a major impact, Adams is one of those players that has to be given serious consideration."
Adams had a particularly strong season last year for the Thunder, averaging 13.9 points, 9.5 rebounds, 1.6 assists and 1.5 steals per game, all of which are career-high averages for Adams in every statistical category besides scoring.
With the Milwaukee Bucks looking like the biggest threat to win the Eastern Conference next season, the Celtics are in desperate need of a rim protector to stop Bucks starGiannis Antetokounmpo from scoring at will around the paint. Acquiring Adams would help the Celtics go a long way in trying to prevent a Giannis onslaught against the rims at the TD Garden.