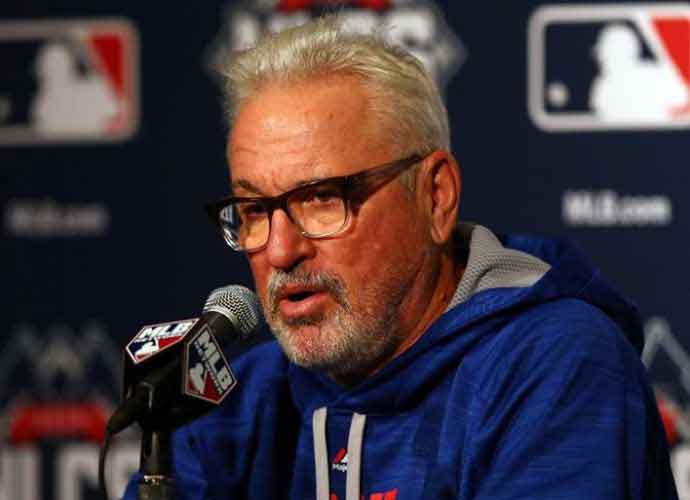 Chicago Cubs manager Joe Maddon found himself watching his team play out the final frames against the Pittsburgh Pirates Thursday from the clubhouse, rather than the dugout.
Infuriated by multiple pitches thrown up and in towards his team's hitters throughout the game, Maddon charged towards the Pittsburgh dugout before longtime umpire Joe West restrained and eventually ejected him. Helping keep Maddon from getting too out of hand was Kris Bryant, who sped over from the on deck circle to catch Maddon as he continued to trot towards Pittsburgh manager, Clint Hurdle, with aggressive intentions.
"I mean, pent-up frustration is one thing, but when your guys keep getting thrown at their head that's another thing too," said Maddon after the game ended. A high inside fastball throw at Javier Baez from Pirates pitcher Jordan Lyles in the fourth inning finally set Maddon ablaze. Baez managed to foul the ball off his bat's knob to defend himself but later struck out.
SLIDESHOW: TOP DEMOCRATS RUNNING FOR PRESIDENT IN 2020
Although Lyles illustrated his honest approach to the game mentioning that he hasn't hit an opposing player all year, he partially sympathized with Maddon after the game. "Nobody likes the ball up and in, so I can understand there is some angst involved," said Lyles. "There's always going to be angst involved in the game of baseball. A manager is always going to try to protect his team and share his feelings."
The following inning, Pirates pitcher Clay Holmes hit Cubs third basemen David Bote's head with a pitch, likely warranting an "I told you so" moment from Maddon while watching the game unfold from inside the clubhouse. "I have no issues with pitching inside. I'm an advocate, but when you [throw] that many pitches, not just that tonight, but it's been that way somewhat during the entire series," said Maddon later.
The Cubs went on to win the game by an 11–3 score, despite their protective manager's absence during the game's closing innings.