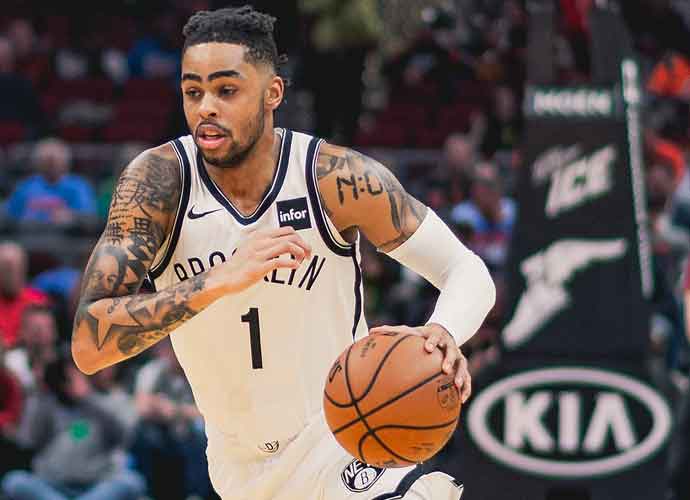 The 2019 NBA free agency opened Sunday night, and with a shocking and twisting turn of events, Brooklyn Nets point guard D'Angelo Russell was traded to the Golden State Warriors. Stephen Curry and Klay Thompson have undoubtedly cemented their spots on the team in the back court, and seems like an unusual piece of business by Steve Kerr and the front office. The Warriors had to dump off Andre Iguodala to the Memphis Grizzlies for Russell, so what could the Warriors be planning? There are conflicting reports on what Kerr is planning to do with Russell, with some insiders saying he is set to sign a four-year deal, and the Warriors will likely play Thompson and Curry on the wings, with Russell bringing up the ball as one of the smallest lineups in the NBA. Other insiders believe Kerr grabbed Russell to scheme the market to trade him before the summer is up, so his biggest Western Conference competitors (Los Angeles Lakers) can't get him in the free agency, and Kerr would be able to dictate where Russell heads next.
The Warriors resigned big-man Kevin Looney for three-years, $15 million, which is a tremendous deal for the Warriors organization, as they have more cap space to work with, while resigning a crucial center.
Mark Stein of the New York Times said about Russell, "this is all about the future for Golden State and D'Angelo Russell does not fit there whatsoever," according to the New York Post. "They just wanted to make sure they didn't see Kevin Durant, arguably the best player in the NBA when healthy, walk out that door for nothing. They got a 23-year-old All-Star and they will trade him, it's just a matter of when. This was about the Warriors protecting themselves for the future."
If the Warriors were to keep and play Russell as a starter, with Curry, Thompson and Draymond Green, they would have four players under 6-foot-7, easily the smallest starting squad in the NBA. On the other hand, if the Warriors' front office decides to use Russell as a piece of a larger trade, they could strengthen their squad in their needed areas, instead of adding another guard to a team that already lacks defensive ability.
30 SPORTS FIGURES WHO DIED IN 2018 – TRIBUTE SLIDESHOW