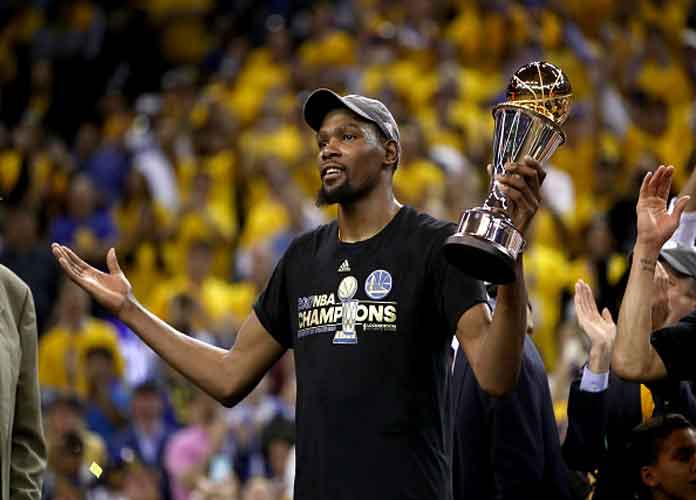 Kevin Durantannounced Sunday that he won't be wearing his usual and infamous 35 jersey that took him through his basketball career. He wore No. 35 at the University of Texas, when he was a rookie for the Seattle Supersonics, when the Sonics relocated to be the Oklahoma City Thunder, and during his two championships with the Golden State Warriors. To mark a turning point in his career, he said that he will be wearing the No. 7 Jersey with the Brooklyn Nets.
Durant says that he will be wearing No. 7 to honor someone dearly close to him. He wore 35 for 12 seasons in the NBA, and this took him to the place he is today. In a statement on Instagram, Durant wrote,  "35 took my family and me from Seat Pleasant, MD and showed us the world. 35 allowed me to meet people that I never would've had the chance to meet, experience things I would never have had the chance to experience, and achieve things that I never would have been able to achieve. 35 allowed me to go to the University of Texas to play basketball, 35 allowed me to achieve my dream of playing in the NBA in Seattle. 35 allowed me to play basketball in Oklahoma City and form bonds and friendships that will last a lifetime. Lastly, 35 allowed me to go to the Bay Area and win two championships and form brotherhoods that no time or distance will ever break. 35 was chosen in honor of someone very near and dear to me. I will always honor him and honor the number 35. But as I start this new chapter in my basketball life, the number I'll be wearing on my back is the number 7 next time you see me on the floor. One time Brooklyn," according to ESPN.
SPORTS FIGURES WHO DIED IN 2019- IN MEMORIAM SLIDESHOW 
To relay the seriousness of his new number, Durant went as far as announcing his new jersey number on Sunday (July 7) at 7:00 p.m. EST, and Twitter reacted quickly.